With so many people staying home and avoiding the nightmare that is the supermarket at the moment, meal delivery services like Deliveroo and Uber Eats are exploding in popularity. But a new player is threatening to take a stranglehold on the market, and frankly, we aren't complaining. Dancers at the Lucky Devil Lounge in Portland, Oregon have launched a new meal delivery service that combines the convenience of fast-food with the pizazz of a strip club. That's right, Boober Eats might just be good old-fashioned American ingenuity at it's thriftiest.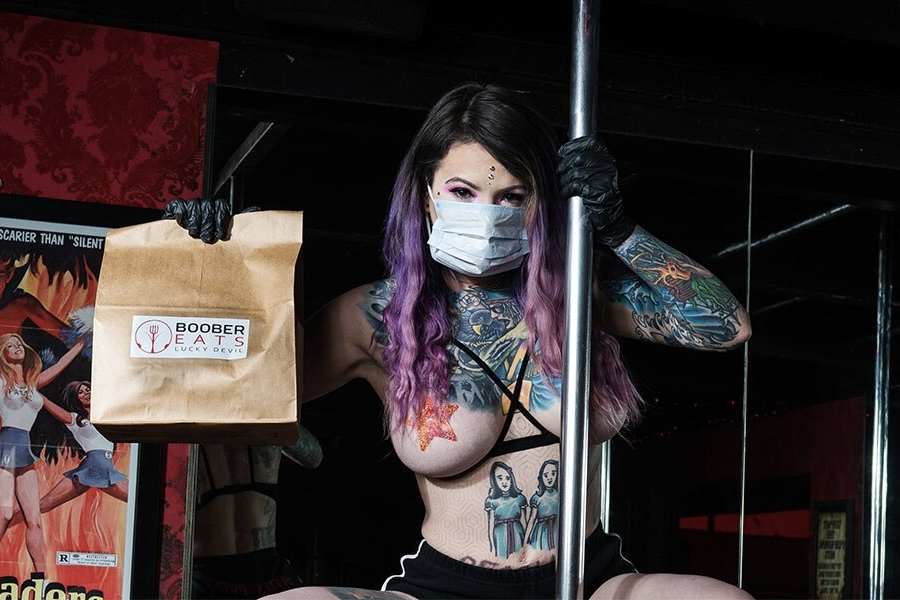 https://www.instagram.com/p/B-CGrbGhjle
According to reports, once you order a meal online (generally pub grub and wings), Lucky Devil Lounge will get cooking immediately, dispatching two nearly-topless women in pasties to hand-out the goods. It all started as a joke on social media for Lucky Devil Lounge owner Shon Boulden, but after receiving hundreds of positive messages about the idea on St. Patrick's Day, he decided to give it a shot.
"It's crazy," Boulden told the Oregonian. "We mutated our one business into a totally different style of business. All the calls, people are just giddy and fun. Sometimes it's a surprise for someone, sometimes it's a birthday, sometimes it's people that are really stoned."
While Boober Eats is a hilarious way to get in on the growing food delivery arena, Boulder's initiative is actually doing a lot of good. About 25 of the original 80 Lucky Devil Lounge dancers are running Boober Eats deliveries after the club essentially shut down for patrons. What's more, the strip club's bouncers are also back to work, operating as drivers and security guards for the nearly topless delivery girls. If there's one thing to be learned from the Boober Eats tale, it's that amid a tireless tirade of negativity and despair, there are good stories everywhere.
God bless America.
Thank you for reading my blog. Please read, like, comment, and most of all follow Phicklephilly. I publish every day.
Buy Phicklephilly THE BOOK now available on Amazon!
Listen to the Phicklephilly podcast LIVE on Spotify!
Instagram: @phicklephilly    Facebook: phicklephilly    Twitter: @phicklephilly