With COVID-19 forcing millions of Americans into their homes on virtual lockdown, small businesses everywhere are already struggling to keep the lights on. Others, meanwhile, are being forced to close in an effort to limit COVID-19's spread. Here are a few types of businesses that may really be feeling the pain right now.
1. Bars
Many bars have been forced to close for the time being, which means owners and employees alike face weeks on end without a paycheck. And while inventory spoilage may not be a huge concern, as liquor and wine can hold up well in storage, it's not very helpful when there are no customers to serve and the rent comes due.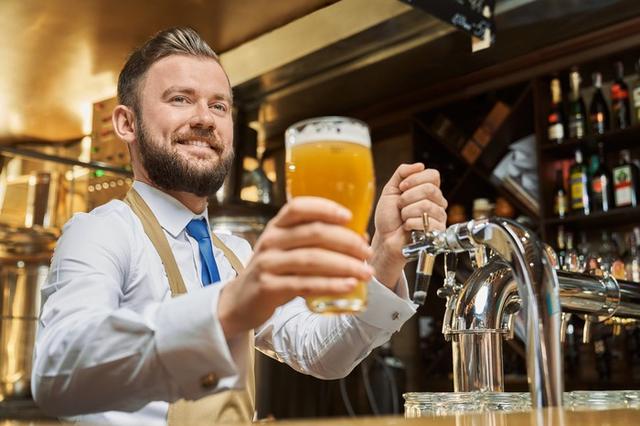 2. Restaurants
Many restaurants across the country have been forced to limit their services to takeout and delivery only, and that's hurting their bottom lines. Among the hardest hit are higher-end establishments that take in a lot of their revenue via liquor sales; when they can't serve customers, they can't serve drinks. Also, while it's common practice to order in pizza or similarly low-priced foods, most people don't want a $30 steak entree to go.
But even restaurants that already do a lot of takeout and delivery may be struggling, as customers are more hesitant to trust food preparers to take precautions. And waiters who rely on tips are certainly feeling the pain — with no one to serve, there's no way to earn money.
3. Beauty salons and barber shops
The need to self-isolate has made the once simple act of getting a haircut less safe, and salons and barber shops are seeing much less foot traffic, if any at all. And given that in-person socializing is on pause, those who'd normally pay for manicures or other types of grooming are now skipping these services.
4. Event-planning companies
Event planners can do very well under normal circumstances, but when gatherings are banned nationwide, there's not much planning to do. As such, companies that specialize in events, and the people who do so independently, face untold financial hardships in the weeks ahead.
5. Independent gyms and personal trainers
Gyms have largely been ordered to temporarily shut down across the country, and while corporate chains may have the cash reserves to withstand long-term closures, small, private training facilities most likely do not. Meanwhile, personal trainers who do a lot of in-home appointments are facing mass cancellations, leaving them stuck for the time being.
COVID-19 is, unfortunately, hurting a lot of small businesses and putting them at risk of shutting their doors permanently. Those who have already been laid off from their small business jobs can try filing for unemployment benefits in an effort to replace some of their former earnings.
Small business owners, meanwhile, should, when possible, get creative about ways to generate revenue. Bars should aggressively push gift cards that customers can order online or by mail and use later on to maintain some degree of cash flow. Restaurants with the ability to transition to takeout should consider changing their menus — and business models — to accommodate our new reality. Waiters can become food delivery personnel, and personal trainers can offer discounted remote sessions using online technology to earn some money rather than none.
It's certainly not an easy time to own a small business. With the right strategy, however, some local establishments will hopefully manage to ride out the storm.
Thank you for reading my blog. Please read, like, comment, and most of all follow Phicklephilly. I publish every day.
Buy Phicklephilly THE BOOK now available on Amazon!
Listen to the Phicklephilly podcast LIVE on Spotify!
Instagram: @phicklephilly    Facebook: phicklephilly    Twitter: @phicklephilly