A new book showcases a collection of photos that captures the band's last concert in England—they were in their pomp, on their mission, and fully charged.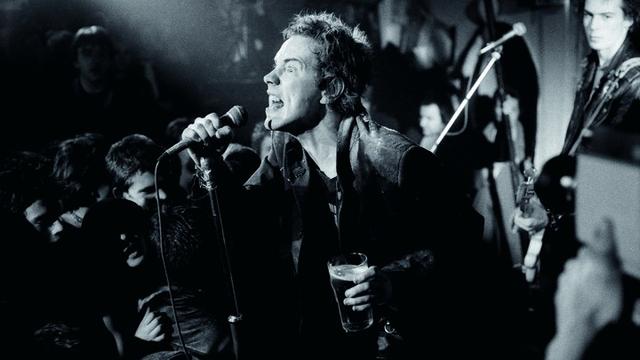 By the end of 1977 the Sex Pistols were so drenched in notoriety that, as a band, they could barely function. Punk rock, originally an American import, had activated the imagination of Great Britain at a hysterical, medieval level, and the Pistols—swearing on live TV, getting to Number 1 with the banned single "God Save The Queen" (She ain't no human being!)—were overnight bogeymen. Pale and twisted, neurally disenfranchised but making a huge, thick, derisive, airwave-jamming noise, they seemed to have limped out of the psychic shadows and seized power. The frontman Johnny Rotten would hang off the mic stand like a licentious scarecrow; the new bassist Sid Vicious, his long limbs clanging, was an icon continually in the process of dismantling itself—a human Jean Tinguely sculpture. Their manager Malcolm McLaren, meanwhile, had an agenda for uproar and no interest whatsoever in the well-being of his charges; for over a year his provocations and imbroglios had kept the band on the front pages of a gratefully disgusted tabloid press.
And they had reaped the whirlwind: In June, in two separate attacks, Rotten was slashed with a razor and the drummer Paul Cook was beaten with an iron bar. Now, in the depths of winter, a projected U.K. tour had collapsed as the burghers of one municipality after another—local councilmen and members of Parliament—rose up with quivering jowls to denounce, reject, and foreclose these leering scapegoats. Nowhere to play.
Except Huddersfield. On Christmas Day. At a venue called Ivanhoe's, in a market town in West Yorkshire, the Sex Pistols would play a benefit show for the Fire Brigades Union, which had recently called its members out on strike in pursuit of a 30 percent wage increase. This was a very McLaren-esque piece of business: The Sex Pistols, avatars of sociopathy, would throw an afternoon Christmas party for the families of striking firefighters. Gifts, games, a cake, a performance, t-shirts for the children. What could be nicer? What could be worthier? Then they would play a second set for their fans.
The first show, the one for the kids, was extraordinary enough. Thank God we have the footage. Pre-teens with soft 1970s hair bounce and jive unselfconsciously, and with even a strange solemnity, as the band rips in gusts of joy through "God Save The Queen" and "Anarchy in the U.K." No future for YEEEEEW! "Bodies"—She was a girl from Birming-HAM-uh / She'd just had an a-BOR-tion-ah!—acquires the pure and vicious resonance of a playground chant. The kids take the mic, sing along to the chorus: Mum-my! I'm not an animal! Johnny Rotten mashes his face into the Christmas cake during "Pretty Vacant." The kids wave flags. Credit here the unscrupulous McLaren and his nose for the carnivalesque. An event this wholesomely riotous, this innocently lawless and punk-rock-paradoxical, if it happened today … well, it wouldn't happen. It would be held in an art gallery.
But it's the second set, for the grown-ups, that concerns us here. Sex Pistols: The End Is Near 25.12.77 collects the in-show shots of the photographer Kevin Cummins, who was covering the concert for New Musical Express. That afternoon, at his parents' house, Cummins had committed small-scale anarchy by getting up and leaving in the middle of Christmas lunch. This meant that he was also skipping the Queen's televised speech, traditionally watched with boozy fealty by every single person in the country. "My father didn't speak to me for at least three weeks," he writes in his introduction.
No one, not even the ferally alert McLaren, knew it at the time, but this was the last show the Sex Pistols would play in England. Days after the Hudderfield show they would leave for a short, fiasco-filled tour of the U.S., a jaunt across the un-punk-rock South (Atlanta, Memphis, San Antonio, Baton Rouge) that was essentially an extended act of incitement. The band, as an entity, would not survive it. In less than three weeks, at San Francisco's Winterland Ballroom, the Sex Pistols would explode, fall to bits, end. "Oh bollocks. Why should I carry on?" asked Rotten, pertinently, in the middle of a half-hearted assault on the Stooges' "No Fun." All of which adds a film of wistful irony to the power of Cummins's photographs from Ivanhoe's, because here are the Pistols in their pomp, on their mission, fully charged.
The images, from this distance, have an almost fairytale familiarity. Rotten, pint in hand, his hair still matted with cake icing, grins and writhes Uriah Heep-ishly, twisting his body to accommodate the demonic projections of the English unconscious. Steve Jones is slouched red-eyed over his guitar, raffishly infusing his glam rock mega-chords with Chuck Berry momentum and heavy metal crunch. Sid Vicious, soon to be infamous, soon to be dead, bass slung super-low, looks like a drawing from the Diary of a Wimpy Kid series: His small scowling features are etched blackly onto an empty white face. He's there and he's not there, an accident that might have already happened. (McLaren would later characterize Sid's aura as a "halo of anarchy.") The current of the performance never seems to slacken. Cummins's lens catches the band in no instants of shapelessness or non-Sex-Pistols-ness; their art possesses them at all times. Cook, the band's thunderous timekeeper, is hardly represented, but maybe that's appropriate; the drummer should be a kind of nonentity. (What a superbly physical drummer he was, though, Paul Cook. His whole kit would quake like the ribcage of some enormous, panting animal).
Towards the end of the show, the end of the reel, Rotten puts on a beret. It suits him, giving him a ghoulish sort of Parisian presence—he looks arty, he looks Left Bank. And there was this weird French strain to the Sex Pistols' enterprise. McLaren was, or thought he was, or said he was, a devout reader of Guy Debord: all of his various art-acts were somewhere between pop mania and Situationist disruption-of-the-spectacle. But the Pistols were also a rock 'n' roll band, a very good one. Left to themselves, who knows what they might have achieved?
The die, however, were cast. The great music writer Paul Morley, in the foreword of The End Is Near that appears to have taken him about 10 minutes to write (although 10 minutes of Paul Morley is worth three weeks of [insert name of writer]), makes the point that by late 1977 the Sex Pistols had already become "as much a part of British history as Churchill, the Royal Mail post boxes, Robin Hood, Sherlock Holmes, Shakespeare." They had become more than a band, less than a band—something else. So look upon these images from Huddersfield, and remember them this way: at the depth of ignominy, at the height of glory, making their music.
Thank you for reading my blog. Please read, like, comment, and most of all follow Phicklephilly. I publish every day.
Buy Phicklephilly THE BOOK now available on Amazon!
Listen to the Phicklephilly podcast LIVE on Spotify!
Instagram: @phicklephilly    Facebook: phicklephilly    Twitter: @phicklephilly