For the most part, you can't really choose who you happen to fall in love with. You can definitely choose what you want to do with those feelings, but you can't force yourself to have feelings for someone and you can't really force yourself to stop. As a result, it's so easy to find yourself in a situation where you've fallen in love with the wrong person.
More often than not, these situations never really end well. If you think you're in love with the wrong person for you, relationship experts Greg Behrendt and Amiira Ruotola, authors of the upcoming book, How To Keep Your Marriage From Sucking, tell us, you're in great company. "Almost all of us have been there, too," they say.
Just think about it. If we all fell in love with the right person right away, none of us would have to deal with the pain of going through a breakup. You wouldn't have to worry about whether or not your partner would cheat or why they seem to be checking out. You certainly wouldn't have to look for the various signs that they're "The One," because you'd just know.
Oh… good show by the way.
Sometimes knowing you're in love with the wrong person will be obvious and sometimes it won't be. So here are some easy-to-miss signs that you might be in love with the wrong person, according to experts.
1. You Communicate Your Concerns But Nothing Ever Changes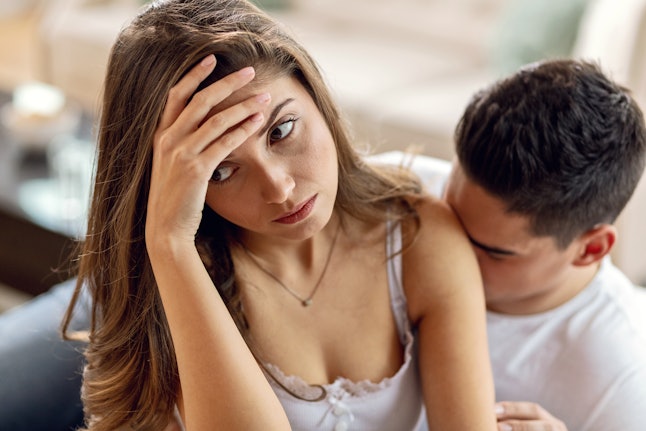 "Waiting for your partner to change is a recipe for heartache," Caitlin Killoren, relationship coach at relationship training app, Relish, tells us. In a healthy partnership, you and your partner will express your individual concerns and find a way to tackle issues together. But if you love the wrong person, you can have all the tough talks you want, and communicate your concerns as often as you like, but nothing ever changes. That's because you can't ever really expect to change a person. As Behrendt and Ruotola say, most people are reluctant to change on their own accord. In situations like this, it's important to realize that this might be a long-drawn-out breakup in disguise. "Eventually you will need to be honest with yourself about where this relationship is or isn't going," they say.
2. Your Schedules Don't Line Up
Have you ever fallen in love with someone who lives across the country in a different time zone or who works overnight, while you work a regular nine to five? If so, Bethany Ricciardi, a relationship expert with Too Timid tells us, you could be head over heels in love with the wrong one. Being in a long-distance relationship or having completely different work schedules doesn't give you much time to spend together. Although these can work out with the right amount of trust and communication, there's a reason why many of them don't. "We all have wants and needs," Ricciardi says. "Sometimes I like to think of us as flowers; we need to be given a little bit of sunshine and water every day. So who's giving that to you when you and your partner never see each other?"
3. You're Spending A Lot More Money For Your Relationship Than Your Partner Is
You may enjoy paying for everything in your relationship like date nights, dinners, surprise trips, or even a Netflix account. That's totally fine. But as relationship coach Jenna Ponaman, CPC, ELI-MP tells us, "If your partner doesn't make the effort to share in the responsibilities, this may be a sign of codependency." The relationship has become more about necessity, and less about desire. If this continues, you may begin to feel a sense of imbalance. According to her, the relationship can become filled with resentment, arguments, and dissatisfaction. If paying for everything doesn't seem like a bad sign to you, those are clear and obvious ones to pay attention to.
4. You've Started To Adopt Unhealthy Lifestyle Habits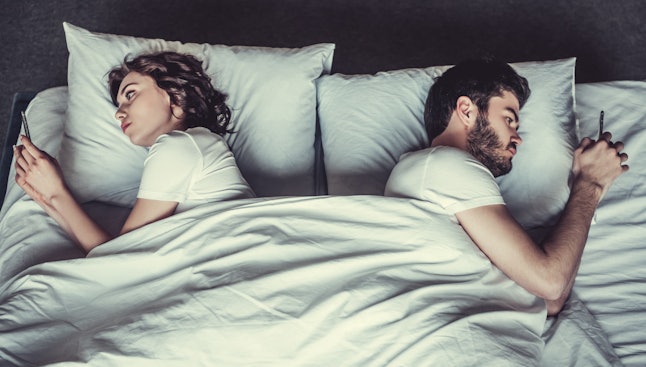 If you used to practice self-care a lot, made sure to get a good amount of exercise weekly, and ate healthy before your partner and suddenly it changed, Ponaman says you may have fallen for the wrong person. "This varies from person to person, but healthy eating, for example, allows the body to feel rejuvenated, energized, and good," she says. "If you were once a healthy eater and decided to 'ease up' on the lifestyle after you began to see your partner, it shows you and your partner's lifestyle habits may not be fully aligned." It really comes down to the reason behind why you decided to make the change. If it's to make you two seem more compatible, you may have fallen for the wrong person.
5. Your Relationship Is A Never-Ending On-Again, Off-Again Saga
On-again, off-again situations may make you feel hopeful that one-day things are finally going to work out. But as Jenna Matlin, Clairvoyant Intuitive of The Queen of Wands Tarot tells us, "​The danger with on-again, off-again relationships is that you are inadvertently training yourself to return to the very thing that does not work." So if you're stuck in a cycle where you keep breaking up and getting back together, you may be in love with the wrong person. "[If] you find yourself in this situation, you have to break the cycle and go cold turkey if you can," Matlin says. Furthermore, trying to maintain a friendship might not work either because it can lead you right back into that mess.
6. You Barely Spend Any Time With Your Friends And Family
Your life can change when you finally meet your match. But as Ponaman says, that's not always a good thing. "Good change is when you make a choice that is clearly for your highest good, but if you feel like you've sacrificed something to make this person happy, sometimes this isn't the healthiest of choices," she says. For instance, if your relationship is causing you to spend a lot less time with your friends and family, you may have fallen for the wrong person. "In most cases, we tend to make these sacrifices to spend more time with our partners," Ponaman says. "But this only happens because we don't feel that we have had enough attention from our mates." When you're in a healthy relationship with the right one, she says you wouldn't need to change your pre-relationship lifestyle to accommodate theirs.
7. They're Not Into "Labels"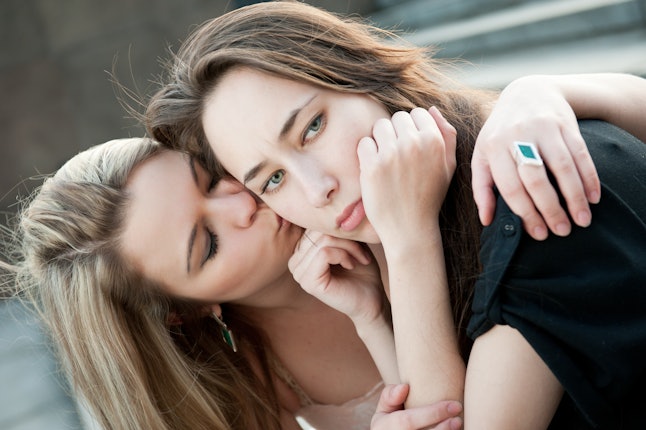 8. You're Only With Them Because It's Comfortable
​Being in a relationship with someone who's been around you for what seems like forever can make you feel comfortable. "But just because a person has been in your life for a long time and it feels comfortable, it does not mean that they are a good fit for who you are now, or will contribute to your growth moving forward," Matlin says. If you feel like that passion and desire for your partner is lacking, she says you need to be willing to "step out into the wilderness" and trust that the right person will come to you. "Be willing to embrace ambiguity," she says. "Trust the unknown. Be radically honest with yourself and what you truly want."
9. You've Confused Being In Love With Having A Crush
Having an intense crush on someone may seem like love, but it's important to differentiate the two. According to Matlin, a crush is sometimes one-sided. "It's often an obsessive, overly emotional, and idealized focus on another person," she says. Most importantly, there's a huge distance between you and your person of interest. When that crush turns into unrequited love, you know you've fallen for the wrong person.
Loving someone, on the other hand, is to see the person for who they are and loving them for the good, bad, and ugly. As dating and relationship coach Rosalind Sedacca, CLC, tells us, "It's usually based on a deeper sense of respect for who they are. We feel more accepting of and tolerant about their behavior, even when it doesn't please us. We find a way to still love them, even when we don't love their decisions and choices."
10. Your Partner Isn't The Type To Apologize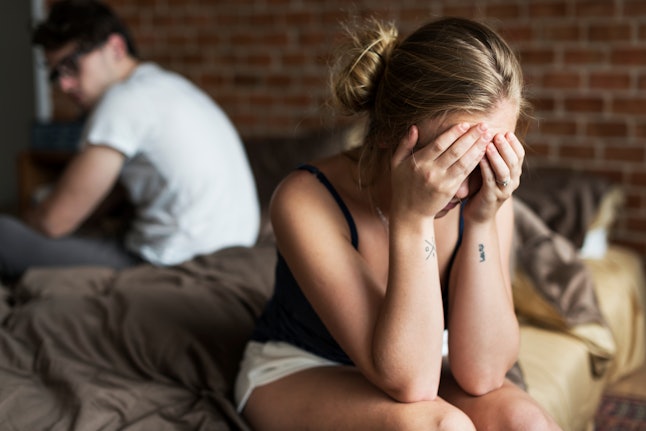 It's important to remember that all couples get into disagreements. But how you choose to respond to each other at the moment can determine whether your relationship is right for you or not. "If your partner does or says something that hurts you deeply and is unable to apologize, this is a sign that they are uncomfortable admitting any wrongdoing," relationship expert and spiritual counselor Davida Rappaport tells us. This is a major sign of emotional immaturity.
Saying "I'm sorry" is so simple and shows that you can take responsibility for your actions. "Without accountability, there can be no improvement," Killoren says. If you're with someone who can't say sorry after doing something hurtful, you might have fallen in love with someone who's possibly immature and most likely not right for you long-term.
I'll have the rest of this article out by noon today!
Stay tuned!
Thank you for reading my blog. Please read, like, comment, and most of all follow Phicklephilly. I publish every day.
You can check out my books here: https://www.amazon.com/s?k=charles+wiedenmann&ref=nb_sb_noss_1