When you're in a relationship, it's easy to lose track of the time you spend with your partner. Whether you're spending the night at their place all the time, or taking way too many work-from-home days to spend hours in bed with them, it can feel like time doesn't even exist anymore. So, in this couples' vortex, is there such a thing as spending too much time together in a relationship? Honestly, it's confusing, but according to experts, spending some time apart might help you find your answer.
The thing is, relationships are exciting and fun, and there's nothing wrong with spending ample amounts of time with your significant other as you continue to get to know each other. But there is a line between spending time together and spending all your time together. In order to understand where that line is, it's important to understand that every couple is different. "First, it's important to note that 'too much time' can look different from relationship to relationship," Kali Rogers, CEO, and founder of Blush Online Life Coaching, tells Elite Daily. "Some people are simply more extroverted than others, some become codependent too quickly, and others simply don't know how to create appropriate boundaries. So while in one relationship, seeing each other every day is typical and just fine, in others that would be way too much too soon."
However, it is totally possible for a couple to be spending too much time together, even though it might not seem like it at first. "If two partners have adequate boundaries, resilience, and interdependence — then too much time probably doesn't exist," Rogers says. "There are plenty of couples who work together, live together, and have a family together — and arbitrarily saying that dynamic is unhealthy is short-sighted. The key to determining if too much time is a bad sign is to measure the number of time couples spend arguing together, and how they feel once they do get some separation. If couples feel lost, unstable, or depressed when apart, that's a sign of codependency."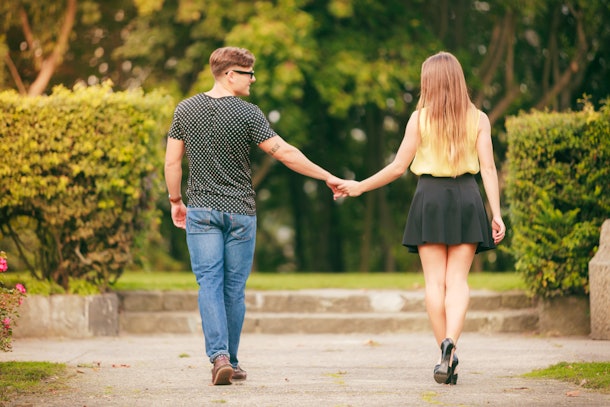 So really, the best way to determine if you are spending too much time together is to spend some time apart. Can you handle it? If so, you're probably good, as Rogers says. If not, it might be time to address the issue.
Unfortunately, if you and your partner are codependent, it can present a whole different set of issues. "The reason that time can sometimes contribute to the toxicity of a relationship typically stems from codependency," she explains. "Instead of tapping into one's own resilience to combat daily problems, they lean too heavily on someone else for support or solutions. This creates excess strain on the relationship, and a toxic cycle can develop quickly. People become the worst version of themselves and don't have enough separation in order to gain perspective."
A codependent relationship is probably not one you want to be in. Psychologist Erika Martinez told Elite Daily that in codependent relationships, "the dependent relies on the codependent to take care of, support, fix, and generally enable him or her. In some cases, the dependent really can't take care of themselves, and in others, it's a state of learned helplessness," she explained. "The codependent does the enabling and grows accustomed to being the one that people (including the dependent) turn to for help. Thus, codependent's sense of self-worth and self-esteem are often tied to their ability to fix things, be proactive, help others, people-please, etc."
If this is where you see your relationship headed, consider seeking outside help. Martinez suggested researching "CoDependents Anonymous (CoDA) support groups that meet regularly and many people find helpful." She also suggested going to therapy, on your own or as a couple, to "[help] to change these interpersonal dynamics for the better."
On the other hand, if your relationship shows no signs of codependency, and you're still worried you're spending too much time together, Rogers advises you quit worrying! "Try not to compare time in your relationship to time on others' relationships," she says. "People are wired differently, and time spent together should not be the only marker of progress." Rather than look at how much time you spend with your partner, try reflecting on how your partner makes you feel. "How do you feel when you are apart? Are you a better person in this relationship? Focus on those questions instead of the number of minutes you two are together, and I believe you will have clearer answers about the state of your relationship."
There is no one perfect relationship formula, but there is such a thing as spending too much time with your partner when it leads to an unhealthy relationship in the long run. Reflect on the time spent with your partner, how you feel without them, and go from there. You deserve a happy and healthy relationship, regardless of how much time you spend together.