Is that Yvonne Craig, Sally Field, and Lynda Carter? (I don't think so!)
Philadelphia, PA – 1970s
That special time rolls around every Autumn. It's not as great as Christmas, but it's right up there.
Halloween!
There's all the preparation leading up to the event. It's almost too hard to believe. We get to dress up as cool characters for one night a year and collect candy from everybody in the neighborhood. Do you mean to tell me we just knock on doors and they give us free candy? How is this possible? We love candy!
Halloween in our neighborhood was especially good. You paint or carve pumpkins into Jack O Lanterns. Each kid in the family picked out their own pumpkin and created their own design. We'd sit them out in a descending line down the steps to show off our handiwork.
Watching Doctor Shock on channel 17. Mad Theater and Horror Theater. All the classic monster movies like Dracula, Frankenstein, and The Wolfman were the best! Doctor Shock was the host and practically invented the genre long before Elvira and MST3K! He even brought his little daughter, Bubbles on the show.
Remember the real horror stories you heard as a kid? That bad kid from around the corner who's going to be out with his minions to cut kids' bags and steal their candy! (The mothers were ready with firearms!)
Not really.
It seemed like when you were a kid there were always horror stories. It's as if they were all made up by adults as words of caution to children in general. There was no such thing as the boogeyman. But many were told of his existence. But it was to scare kids into not wandering off at night. Because in reality there were bad people out in the world who could hurt you. So they gave him a name.
Razor blades in apples? Did anyone ever get one? Of course not. But I think everyone would agree that if any kid ever got a piece of fruit in their trick or treat bag, that sucker went straight into the trash.
And what sort of person gives out fruit on Halloween? How have they not heard of the protocol? Did they not get the memo?
CANDY! WE ONLY WANT CANDY!
I want store-bought, name-brand candy ONLY. I want full-sized Snickers and Hershey bars. What's with this new thing called "Fun Size?" There's nothing fun about a tiny version of the real thing you want.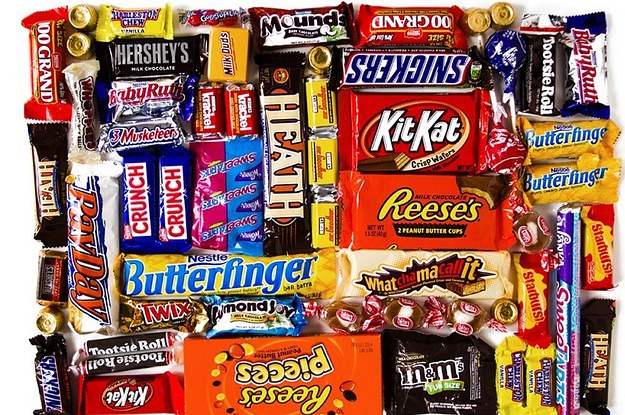 That's what I'm talking about.
Yes, please!
Remember there was always that random neighbor who gave out little bags of loose candy? What sort of crap was that? Juju bees, hard candy, Dots, and candy corn? No one wants that loose candy that you've had your hands all over! Straight to the trash! 
We'd get so much candy, we'd have to stop home and dump it because our little orange buckets were brimming with treats. Once our bounty was secured, we'd head right back out again for more. Did we get tired? Hell no! Sugar kept us going, baby!
You wanted to eat it all at once! But your mom was always there with… "You can have ONE!"
Some people even gave us money! It was a bunch of pennies and nickels but hey, we prefer the candy but if you want to give us cash that's okay too! (How about you toss a few bills in there, pops?)
Back then I remember people doing some decorating to their homes but not at the level at which people celebrate Halloween today. Halloween has become the most profitable holiday behind Christmas. You don't even get a day off from work.
A few years ago, My friend Scott had come up to visit. I remember us walking into one of those seasonal Halloween stores that pop up around September each year. There was every terrifying nightmarish object imaginable in that store. The place looked like the prop department for Hammer Films!  My friend said, "I remember when Halloween was about getting dressed up, carving pumpkins, and trick or treating. Now it looks like Hell hath come to Earth!"
I found that very funny.
But I think I know as an adult why people love Halloween so much more now. For one night a year, you get to pretend to be someone else, party and drink, and you don't have to spend time with your family!
But I digress…
When we were in grade school, you got to wear your costume to school on Halloween. That was so cool. You got to see what all of the other kids were wearing that year. The teachers would take us all outside in our costumes and walk us around the neighborhood near Lawndale School. We were like little celebrities in our Halloween parade. People would stop and say how cute we all looked.
Pictured: Melissa, & Deneen Hanley, Sandra Hoffer, Wayne Kacheleries, RJ McMeans, & my sister Jane
When you're little your parents take you to the department store and you get to pick out your costume. They were all stacked on the shelves in boxes with the clear cellophane window on the lid so you could see the character's mask. There was a great assortment of costumes for kids of all the things we liked. Most of all, the characters we wished we could be every day. Batman, Superman, Wonder Woman, etc.
The funny thing was, you thought you were getting this:
…and this.
But you ended up with this:
Yea… Lame.
Girl: I wanna look like Lynda Carter in the show, Wonder Woman!
Yea… good luck with that. Not happening. WW doesn't wear a polyethylene bag to fight crime.
Those cheap costumes looked more like pajamas than superhero outfits. But at least they were flame retardant. (It said so on every box) At least you knew the superpower you possessed dressed in one of these ridiculous costumes was you wouldn't burn to death. Big deal.
Then there was that plastic mask with its razor-sharp edges.
I was always afraid I would cut my eye on one of the eyeholes in those kinds of masks. You'd be wearing it and the flimsy rubber band that was stapled to it would always come off. It would always somehow pull out of the sides. It never happened at home. It only gave way when you were blocks from your home.
But before that even happened the mask would get all steamed up inside. Sure, there were nose and mouth holes but the whole mask would get wet inside. It was gross. Your face would be soaked as you walked around your neighborhood collecting candy.
The first costume I can ever remember wearing was The Green Hornet. I was just a little guy, maybe 5 or 6 years old. I put it on thinking it was cool, and my dad would laugh because he said I looked like an adult midget! (No offense to little people, but it was the 70s and my father was not politically correct)
Does that look like the Green Hornet to you? No. It looks like the Green Hornet's jommies.
Almost as bad…
Yea, that's me.
But we didn't care. As long as you had something that resembled a costume, you were good to go. My friend RJ would go out as the same thing every year. He didn't care. Put on some banged-up ragged clothes, burn a cork and rub the charcoaled end all over your face, and grab a pillowcase for candy and your good.
Me: What are you supposed to be?
RJ: A bum.
Me: Cool. Let's go get loads of candy!
It was that simple.
Remember when you were all fired up in your costume and chomping at the bit to get out there and start trick or treating and your mom would say this?
"It's cold out. Put on your jacket."
"Really mom? Batman doesn't wear a coat over his costume!"
I remember as I got older we went with more creative costumes. If we had store-bought costumes we'd grown out of, we'd simply give them to younger kids in the neighborhood.
One year, someone in the local government came up with the brilliant idea of making the kids go out in the late afternoon. We thought this was a terrible idea. Halloween was meant to be played out at night.
I had passed on one of my old kid's costumes to this kid who lived up the corner named Douglas Miller. It was a store-bought astronaut costume.
I remember the only cool thing about it, was that they had built in a tiny light bulb in the mask that could be operated by a little battery pack you had to carry. I give the company points for creativity and making a costume that is more visible at night. But here comes Douglass with the costume on carrying his trick or treat bag in broad daylight. I think he was the only one out at 4 pm in the afternoon!
That rule was quickly abolished the next year. The costumes looked bad enough at night let alone in daylight!
But the costumes did get better as we got older. I remember going out as Dracula one year. A friend of my dad's had made a really amazing cape that was red on the inside and black on the outside. I slicked my hair back, popped in some fake fangs, and became a vampire that night.
I was a cowboy one year, complete with a cool hat, vest, boots, and a pair of toy Rango guns on my belt. Being a hippie a year or so later was also good. I really didn't look that much like a hippie though. More like a biker or Jerry Garcia.
My older sister was a pilgrim one year and the costume looked really authentic.
And of course… there's my absolute favorite Halloween costume of all time.
Pictured: Chaz (Gene Simmons)– Steve Peoples (Peter Criss) – Jimmy Hunsinger (Ace Frehley) Jimmy did all of our makeup. Such a talented fellow.
But the absolute most creative Halloween costumes I ever saw were made by our neighbor, Mrs. Hanley. She was an expert seamstress, who could make anything out of fabric.
Although brilliant designs with expert craftsmanship, they weren't always that functional. Case in point, one year her two daughters went out as Witch Hats. Not witches. Just hats.
This is the only image I could find on the internet that even remotely resembled the costume. Just picture a giant black witch hat, with a wide brim and a hole cut out for the child's face. I couldn't find the costume online because they were custom-made and completely original designs created by Mrs. Hanley. Elegant in theory, but as I said. Not very functional. You can't climb steps in it. You can't clear a doorway either. So, sadly the Hanley girls had to stand down at the bottom of people's steps, and whoever they were with would have to point to them and say to the neighbor. "Oh, and can you give me two more candy bars for the Witch Hats down there?"
But she made them better costumes the next year. A more functional model. Mrs. Hanley made her girls into Mice. They were really cute costumes and the girls looked adorable. Again, custom designs and fully handcrafted. Something like this, but better.
But here's the thing…
The tails on the costumes were made of stiff wire. They even curled up at the end. So sadly, the girls' little tails were getting hooked on everything! Doors, doorknobs, door frames, railings, street signs, fences, and other children.
Clever costumes, but be careful! They'll put your eye out!
We were happy just to go from door to door with our little bags out and the neighbors would make a fuss and dump the treats into our bags. It was simple and efficient.
But there was always that one family…
We'd stop at the Hunsinger's house at the corner of Fanshaw Street and Hasbrook Avenue. They had a super ferocious dog named Jason, so there's that. But the worst part was, you couldn't just stand on the porch with your bag out.
You had to go in the house. Say what your costume was, and tell a joke to EARN your treat. (Did they not get the memo either?) We're not here to perform like chimps for your entertainment. We walk up. Bag open. Say Trick or Treat, and you turn over the goods to us and we thank you. Period!
I get that they wanted to see us, take photos and engage us. It was all in the spirit of the holiday, but come on. I have 39 Reeses Cups in this bag. How about we make it an even 40 and I'll be on my way. Okay? We're on a tight schedule here. We got rounds to make tonight!
We'd have a whole route mapped out to maximize our return on Halloween. But the final destination and most glorious was Rising Sun Avenue. It was wall-to-wall stores for blocks. We'd start at the beginning and go in and out of every single store getting candy. And it was the good candy too. You know what I'm talking about. We'd work one side of the street down to about Levick Street and then cross over and come down the other side and hit every store over there too.
Funny thing was, there was a really nice candy store called Bauer's on Rising Sun. You could go in that store any time of year and it smelled like what a child would imagine what Heaven smelled like. Just delicious chocolates and sweets of every kind imaginable. A nearly mythical place from fables and storybooks.
But… on Halloween, I remember getting a giant taffy from there. It looked like an oversized lollipop on a wooden stick. The business end was carefully wrapped in wax paper and it was gently placed into my bag for transport. But wouldn't you know, the very next place I walked into, I was given a candy apple? The clerk would blast that thing into my bag like they were Steve Carlton and it would shatter my lolly from Bauers! Thanks, Lefty!
After a few exhausting hours of trudging around in our costumes to as many places as possible, we'd head home.
But that's when the inventory and trading took place. We'd lay out all of our candy onto the carpet. Counting how many of certain brands we got that night, and exchanging them with our family and friends. It's probably the only time in your childhood where you actually can possess a substantial amount of something you love, and it's absolutely FREE!
Pictured: RJ McMeans, Jane, Chaz, Nancy & Gail
But what I remember most was the excitement on the street itself. Kids running up and down the sidewalk in their costumes. The crisp snap in the Autumn air. The smell of the Fall. The leaves crunched under your feet as you ran from door to door.
The night wasn't filled with ghosts and goblins. It was full of happy children and the sound of laughter.
Have a Happy Halloween, everyone!
Thank you for reading my blog. Please read, like, comment, and most of all follow Phicklephilly. I publish every day.
You can check out my books here: https://www.amazon.com/s?k=charles+wiedenmann&ref=nb_sb_noss_1