Philadelphia, PA – 1970s
Some days when the weather was nice and you had nothing to do, we'd just go back the tracks and go on a journey. That's what we'd call it. "Let's go on a journey." That meant we had to explore some part of the tracks or woods we hadn't been to before. I loved our little journeys.
My friend RJ had a sweet tooth and he always spent his paperboy money on Reese's cups. He loved them, and back then they were only a nickel. Two for ten cents. He would buy a whole box of them and eat them all.
One of the most memorable candies he ever brought with him on one of our journeys was a box of sixlets. There are these little round colored candies in a sealed cellophane packet of six. Think of little round M&M's, but cheaper chocolate filling.
You could hold one end of the packet, put the whole thing in your mouth and pull… and it would unload the full clip of all six candies into your mouth. We ate so many of those that day, we never finished the box and probably never ate them again after that.
There was a bunch of weird candy back then. Pixie sticks, the little wax bottles with the colored liquid in them, (I think they were called, Nik a Nips) Candy cigarettes, (The little chalky white ones and the gum ones wrapped in paper so they looked like real cigarettes. You could blow into it to emit a puff of sugary smoke. What a brilliant way to teach children the dangers of smoking!) Wax lips, (You wore them as a comedic gag, and then ate them? (Tasted like wax. Surprise, surprise.) The gum in bubble gum card packs, (Literally shattered in your mouth) and who can forget the little necklace of cheerio sized candies you could bite off and eat? (What's better than edible jewelry?) Or, the sound Pop Rocks made as they sizzled on your tongue!
Wasn't there some story about how some kid died from eating Pop Rocks and drinking soda?
https://www.thrillist.com/eat/nation/pop-rocks-urban-legend-mikey-death
Razzles, Choc O Lite bars, Mallow Cups, Marathon Bars,  and Blackjack gum. Oh, remember the long strips of paper that looked like cash register receipts but had little dots of candy stuck to them? They were all different colors and the colors changed as you went down the paper. You literally bit those tiny morsels of sugar off the strip. How much paper did we consume as children? (spitballs don't count!) remember Bottle Caps? (Cola flavor? Yes, please!) Mike and Ike's, Good 'n Plenty, Good 'n Fruity, Laffy Taffy, (with the joke on every wrapper), Bazooka Gum, Bubble Yum, Charms Blow Pops, and who can forget Lik M Aid Fun Dip?
I'm sure there are dozens more I can't remember off the top of my head. Okay, let's clear my sugary palette before I need an insulin shot with this vintage photo.
Here's an old pic of RJ threatening to shoot a paper clip at me!
One day my friends and I went on a journey just following the tracks north. There was always this feeling you'd get when you were a boy when you realized you'd gone further than you'd ever ventured before. We knew all of the sights and sounds of the whole area. We knew miles of the tracks and the woods back then. All of it. You could drop me anywhere in those woods and I would have been able to navigate my way out of them in at least three different ways or paths.
We'd walk along and things would start to look different and we knew we'd reached the end of our proverbial sidewalk. This was new territory and new things to discover. But you had the train tracks as your foundation. No matter how far we went we figured we couldn't get lost because we'd simply follow the tracks back in the other direction to take us home. It was so cool.
So we're walking north on one of our journeys and we reached what I believe to be the Cottman Street car bridge that crossed over the tracks from Cheltenham into Philly. There were some kids playing down there on the sides of the tracks who we didn't know. They seemed to be doing something with some ponds of water that had pooled on the side of the tracks.
It was stagnant rainwater that had formed these pools. But things grow in stagnant water. Mostly mosquitoes, but there was something else going on here. These kids were catching tadpoles! We approached them to watch what they were doing. We had never seen tadpoles or anything like that before. They were catching them and putting them in jars of water. We knew what had to be done.
For today our journey had reached its end. We had found something new and would be coming back to this place.
My friends and I put our heads together on how we would proceed in this new adventure in an attempt to acquire some free wildlife.
We gathered some baby food jars and some little nets somebody must have clipped from their family's fish tank (probably me) and the next day we were off again.
We followed the tracks back to where our last journey took us and happily the long pools of stagnant water were still there. Think about that. A bunch of nice kids from middle-class families with plenty of toys to play with, play on the railroad tracks, and are going fishing in smelly stagnant pools full of who knows what kind of disease and vermin, and it was awesome!
I surveyed the area. The pools were 20 to 30 feet long. There were several. I walked down to the very beginning where it was the most shallow. I wanted to start slowly, rather than just dig right in with nets into the deeper water. Who knew what was in there? What if there was some kind of evil snake that lived in there? (The water was only 6 to 9 inches deep at the deepest point.)
So I'm walking along the edge of the shallow end which is maybe an inch deep. I like the origins of things so I wanted to start at the beginning. My friend RJ and Paul were just dipping nets into the bigger pools where we had seen the other kids working the day before.
I noticed in the shallow end there was hundreds of tiny black tadpoles. Just writhing and wiggling their little tails no bigger than your pinky nail. But as I walked north along the side of the pool the water got murkier and you couldn't see anything. You had to blindly just dip your net in the water and see if you got anything.
But lo and behold we started to catch some tadpoles. They were all about an inch and a half in length, and we would dip our jars into the brackish water and pop the tadpoles inside. We only captured around four of five of them, and neither RJ nor Paul had anywhere to keep them, so custody of our new pets fell on me. I didn't mind. I was happy to have some new living creatures that I caught on my own and didn't come from a store. Free pets!
I recently started watching a terrific series on Amazon Prime about a family that moves from England to the island of Corfu in the Greek isles in the 1930s. The youngest son Gerald loves wildlife and is always out studying and catching animals and bringing them home. It reminds me of how much we loved nature as kids. He's my favorite character and based on the author of the original books. It's a wonderful show and worth checking out!
Anyway…I had an old plastic tank that I found in the trash somewhere. We were always trash picking as kids. It was great. I found the best stuff in other people's trash! I still had the plastic tank left over from the whole Rosalie's Rodents incident.
(If you didn't read this on Tuesday, here's the link again.)
https://atomic-temporary-111921946.wpcomstaging.com/2018/04/03/i-looka-fter-rosalies-hamsters-and-they-end-up-getting-murdered-by-my-father/
So we filled it with water from the hose out back of my house and put our tadpoles in. I didn't know how they would do coming from a stagnant pool into Philly tap water, but the little guys thrived.
I don't know if I put anything in the water to feed them but I must have. I think RJ got some fish food and we sprinkled that into the tank on a weekly basis. I kept those little tadpoles for a couple of months, and of course, some miraculous things began to happen. You can be taught things in school and read things in books, and look at diagrams and photos of wildlife. But to have the actual creatures in your possession and witness it first hand is something grand. I'm talking about metamorphosis.
One by one the tadpoles began to sprout legs! It was incredible to see. A living thing in your own life that is slowly changing before your young eyes. Not in a textbook but in your hand. Of course, we wanted to touch everything as kids, and you could bring them out briefly and hold them. We would put them back in the water and they would continue on their journey.
Then you'd see a little arm sprout from one side, followed by another one shortly thereafter. That's when I loved them best. Their tails were shrinking, but they had arms and legs. They started to look like fat little salamanders or newts. But they were still changing so you could hold them for brief periods but had to put them back in the water so they stayed wet.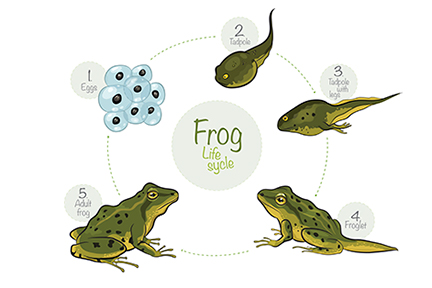 But within a few weeks, they had transformed into lovely little frogs. I always wondered if it hurt for them to change from one thing into another thing so quickly. (around 12 weeks) But they always seemed fine to me.
Eventually, once they matured, they simply hopped out of the tank and went on their way. I always believed they probably lived out their lives in my backyard.
A brilliant science lesson about amphibians all from just following the railroad tracks a little further from home.
I loved playing back the tracks as a kid. I spent so many happy hours back there with my friends. It was close to home, but a place to disappear into nature and our own little world.
I guess I could always relate to the little tadpoles eventually becoming frogs. Because as children we were like them. Just all together swimming around in the little pond of our neighborhood. Then one day we all grew up and hopped away into adulthood.
What would life have been like if we hadn't moved away back in 1979? We'd probably have a lot more stories.
But some days when the day is warm, we can all pause and think back to a simpler time. When we could simply just go out and play.
There comes a day when you hang out with your friends. Just going to play outside. You never know when that day is coming but it does to us all.
There's that day where none of you realize it, but it's the absolute last time you will all hang out and just play outside.
I hope you enjoyed this little series. It began as a short piece from my past and grew into an epic tale!
Thank you for reading my blog. Please read, like, comment, and most of all follow Phicklephilly. I publish every day.
You can check out my books here: https://www.amazon.com/s?k=charles+wiedenmann&ref=nb_sb_noss_1