North Wildwood, New Jersey – 1977-1978
Every morning when you woke up in your bed at the seashore, normally the first thing you heard was the distant cry of a seagull. It was a grounding sound that let you know you weren't in the city anymore.
Back in 1977, I'd get up every morning, 7 days a week, and go to my job at the El Morro Motel where I worked as a pool boy. It was my first job, and as much as I liked having a job and not being grounded, I always hoped for rain.
But to the best of my memory, it only rained a couple of days that summer. Which is great for the local resort community's economy, but I rarely ever got a day off. I mean, I only worked from 7 am to noon each day due to my age, but a guy needs a day of rest occasionally. But, I didn't really mind. I had boundless energy back in those days at age 14, and once I finished at the motel, had the rest of the day to play.
When it rained at the shore it always felt a little sad. The island relied on the sunshine to provide the one thing everybody who came to the shore was looking for. Go to the beach, sit by the pool, hit the boardwalk, and go on the rides at night. If it rained the tourists would be pretty much holed up in their motel rooms, watching television, eating, drinking, and playing cards.
Some folks would put on their rain slickers, grab a couple of umbrellas and head to the movies for the afternoon. There were plenty of theaters in town. The Hunt's Corporation owned them all. The Blaker, The Strand, and The Shore Twin, just to name a few. I would later work for Hunt's in 1980.
Others would brave the wind and rain and head up to the boardwalk to play in the arcades because all of the rides were closed. All the shops were open, and people could buy souvenirs or try their hand at a few games of chance.
I will say, after a good thunderstorm, the ocean was usually still a bit angry. The wind and surf could be a bit wild. I've experienced some of the best body surfing in the waves after a good rainstorm. The feeling of that powerful, bubbly water washing over you was better than any spa treatment you could get today.
But, I couldn't go to work because the pool was closed and people couldn't go to the beach. So what to do on a rainy day?
My friend from next door and I would take a walk along Surf Avenue. We lived on 8th street and would make the trek down to 17th street. The only time I ever saw my neighbor wear shoes was if he was going to the boardwalk at night. Other than that, we all spent the summer barefoot.
The reason we went to 17th street was that there was a big open shop that carried all of the usual things most resort community stores provide. It not only served as a huge newsstand where you could get newspapers, cigarettes, and candy, it pretty much carried everything you'd need for a day at the shore. Sunglasses, beach towels, t-shirts, paperback books, magazines, suntan lotion, beach toys, and all of your other seashore and beach needs. But the only reason my neighbor and I would go to this particular shop was that they had not one, but five racks full of comic books!
Back then comic books only cost twenty cents. So, if you had a dollar in your pocket, you could buy five comics! So between the two of us, we'd usually leave that place with ten brand new comics! That was an entire afternoon of reading quality stories together. Our favorites were horror comics!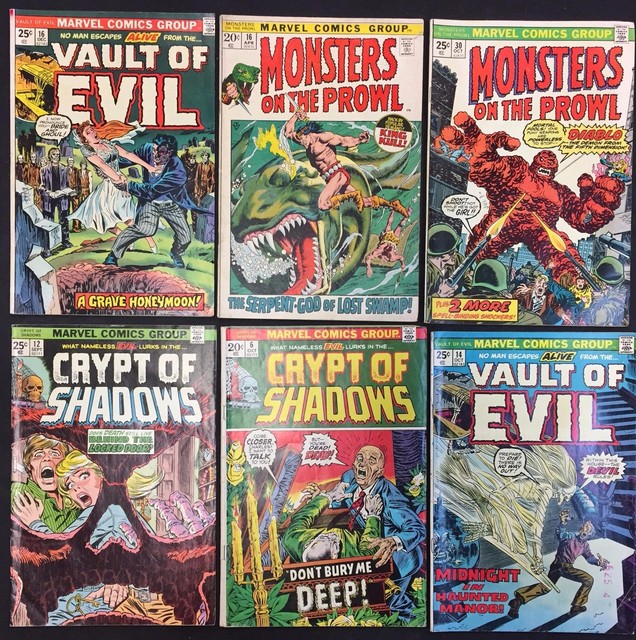 We'd normally park ourselves on his big porch. We'd sit on the astroturf covered floor and lean on the support posts across from each other. Once you were finished reading one, you'd simply toss it over to your friend. We'd do this for hours as the rain beat down on the metal awnings around the porch.
Sometimes we'd get together with my sister and her friend Sandy and break out the board games. Our go-to game was Monopoly. That game was amazing. We've all played it and it's based on the streets in Atlantic City where the game found its origin.
We'd pick our little playing pieces and off we'd go. I always liked being the car, and I think my friend was the hat. I don't remember what pieces the girls picked but, I don't think either of them really cared.
We loved playing monopoly because it was such a fun competitive game. The object is to become a giant property owner and destroy your opponents financially. Pure Americana right there!
But before each game, my friend and fellow comic book and Mad magazine fan would sing a little song. It became a ritual before each game. I loved doing this so much, I never forgot any of the lyrics we sang about the game of Monopoly. The melody of our little song came from the United States Marine Corps Hymn. So, this was a serious moment before each game in an attempt to beat the girls and win all the money.
You can pick this tune up at the 0.40 second mark to hear the melody.
Here's the lyrics we sang before each game of Monopoly.
From the slums of Baltic Avenue to Boardwalk and Park Place.
We will buy up all the properties. Put hotels on every space.
We will drive our foes to bankruptcy if they fail to pay the price.
But we cannot even start the game, till someone finds the dice!
Then we'd start the game. It was a riot.
We'd play as two teams. This way we could share ideas and strategies. There were times we'd have to take a short break from the game and go in another room and have a conference about what was to be our next move. Should we attempt to acquire all of the railroads? What about the utility companies? Is there any possibility that cheating could become an option to win?
We'd return to the table and carry on. I don't know if the girls needed these little meetings. I think they were just happy to play and have something to do on a rainy day.
The game takes hours to complete, so we'd have these marathon gaming sessions. The girls were good. Too good. They made wise financial decisions and thoughtful, methodical moves. On the other hand, my friend and I were a bit more reckless with our money. Our only object was to win and destroy our opponents. But the ladies were slow and steady. They were slightly older than we were and patient in their approach. Great development skills for the future I suppose.
If my friend and I were ahead, we'd gloat and act like idiots. But I suppose that's just typical teenage boy behavior. We'd have moments of glory and bask in the victory of our decisions. But, slowly the girls would basically take us apart. I don't mean the occasional win by some lucky roll of the dice. The girls would systematically annihilate us on the board. We'd be mortgaging our properties and facing bankruptcy, as the girls calmly moved forward with their program. Being testosterone-loaded boys we didn't take kindly to their evil, diabolical schemes against us.
Was this really happening? Were we being faced with the stone-cold reality of being beaten by a couple of girls? Well, you don't know my sister. While my friend and I were laughing and thinking we could ace the game, she was probably thinking three moves ahead of us. Classic ant and the grasshopper level stuff going on here on the floor of our living room.
Things would begin to look a bit bleak for us financially, as the girls rolled the dice and hopped around the board. The pressure was on. We had to turn this situation around. We had to win. Losing was not an option.
Our financial world was beginning to crumble before our young startled eyes. What to do?
It was time to take one of our many breaks to reassess the situation and our assets. This was serious. The girls would relent and let us go into another room to discuss our future game plan. They'd get up, stretch their legs, grab a soda and a snack. They'd then resume their positions around the board and patiently wait for our return. They knew it was just a matter of time before they would grind our dreams of being land barons into dust.
Knowing the losers would have to clean up and put away the game for next time was too great a punishment. How could we dig our way out of this seemingly hopeless situation?
A bit of time passed, and we weren't back from our closed-door meeting to discuss our plan. So the girls called out to us to come back and finish the game. When we didn't respond, they came looking for us. But we were no longer in the other room.
We did what any teenage boys would do with the threat of being defeated.
The girls heard the sound of us outside and saw as we ran past the front porch windows.
They did what any victors would do in this situation. They chased us both all the way down the street until they caught us. We would both sheepishly march back and have to clean up the game like good boys as my mother looked on. Like a warden, she made sure the escaped felons were brought to justice and made sure we cleaned it up properly and not just dumped everything back in the box.
The best part for us was being chased down the street by my sister and her friend. It was all in good fun. We were all laughing hysterically, and it was just another rainy day at the seashore.
Tomorrow the sun would return and we'd all be back on the beach where we belonged.
Thank you for reading my blog. Please read, like, comment, and most of all follow Phicklephilly. I publish every day.
You can check out my books here: https://www.amazon.com/s?k=charles+wiedenmann&ref=nb_sb_noss_1