It is easier to ruin a relationship than to keep it. Sometimes, even without intending to, we are already ruining the relationship we worked so hard to keep. Not that it is really a great deal of hard work—because if you are working too hard then there must be something wrong—but keeping a healthy relationship requires time, emotional availability, sufficient privacy and individual space, and a great deal of maturity from the couple or anyone involved. Whatever relationship we have, be it friendship or life partnership, our habits and tendencies can ruin the good thing we have if we fail to notice the red flags. Sometimes, even with good intentions, we still end up pushing our partners away instead of luring them in and keeping them.
If you want to keep the relationship going, stop doing these things and you will surely have a lasting and healthy relationship.
1. Always Playing the Victim Card
Some people have a tendency to use "guilt trip" against their partner. For example, you have to do something you've never done before in the name of the relationship, like leave your comfort zone and meet people, or leave your family and go abroad and work a menial job that you wouldn't normally do because, in your country, you are someone cut out for a corporate job or a job with higher pay-grade; Or you have to sacrifice your girl's night out because you have to take care of the kids or when you have to decide to forego that beautiful dress because you still have unpaid bills. More often than not, we are guilty of playing the victim card just because things did not go our way. You blame your partner because if not for him/her, you wouldn't have to do such a thing.
Playing the victim card just to make your partner/friend give in to what you want is not good. It is stressful. When you make your partner the bad guy and you the victim by blaming everything on them, you just push them away. Instead of pointing fingers, why don't you appreciate what they are doing for you and stop complaining too much about your life because clearly your partner also had to forego some things in their life just for you. That is called compromise and instead of whining all the time, be grateful instead and try to work things out together by doing your part wholeheartedly. You are in that relationship because you are together and it means that you share both the good times and bad times. Both of you have your own responsibilities so do yours and don't just rely on your partner to do everything for the both of you. If you have to clean your house and do the dishes and you never have to do that before because someone else was doing that for you (house help or sibling), you need to realize that you now have a different life and so you shouldn't live the way you used to.
2. Walking Out of an Argument or Not Saying Anything at All
Arguments are normal. You are different people after all so normally you have different opinions and beliefs about some things. However, some people tend to avoid arguments for various reasons like they never win anyway, or the topic is nonsense, to begin with, or there's just no way for the couple to agree. If that's the case, instead of walking out or not saying anything at all, it is better to agree to disagree. You both have your points to make and so you hear each other out. DO not dismiss what the other has to say especially if it is about their emotion. Never ever argue with someone's emotion especially if it is your partner. When you dismiss their feelings, you make them feel unloved or unimportant. If you are upset, say it. If you are mad, say it. Do not just leave or ignore your partner.
There are times, however, when it is easy to pretend we are busy so we don't have to deal with the arguments but that is just wrong. If you know that you are incapable of talking it out at that time because you are upset, tell your partner that you are upset and that he/she should give you time to cool down, and then you can discuss afterward. Know when to walk away. When things get heated or words become too abusive or hurtful, then it is better to walk away than make matters worse. But in healthy relationships, a person doesn't just slam the door in your face or leave you screaming on your own. They communicate. That is how mature couples do it and it works every time often ending up with make-up intimacy.
3. Sleeping Without Resolving Issues
Do not let it become a habit to sleep with unresolved issues. First, because it feels so constricting to sleep beside your partner without talking, second, it starts your next day on a negative light and it basically just ruins your whole day and the days after until you resolve the issue. The most important reason of all is that, one of you might not wake up the next day and the last thing you said to each other was hurtful or a painful silence. I know, it seemed too negative to even think about it and call me paranoid or what not but it is what it is. We live in a world where people die in their sleep and imagine how devastating it would be for someone left behind with nothing but that painful memory of their last moments together. It is utterly regrettable, right? So make sure to even things out before sleeping. It is extremely beneficial for both of you to have a peaceful sleep and a fresh new start the next day. If you start the day right, you will be more productive at work and just generally in life.
Conflicts are normal and sometimes we cannot help but sleep on unresolved issues because we are so tired or it is just too much for us at the moment, in this case, you need to tell your partner that you will talk about it in the morning and don't forget to say "I am upset but I love you. Let's talk in the morning". There, it is not bad at all to sleep on that…because you both know you are willing to work on it and you still love each other despite the issue.
4. Being Emotionally Unavailable
When you are in a relationship, you need to be constantly emotionally available. You need to be involved emotionally because that is how you can connect with your partner. If you are always indifferent to what he/she says or feels, you make your partner feel unimportant. This pushes your partner away from you and don't be surprised if one day, you discover they have moved on with someone else because you weren't there all the time or you were there physically but you were unavailable emotionally. Sometimes, we become emotionally unavailable when we have a lot of things going on in our life. Work becomes a priority and we start to miss "family or couple traditions". Or we are going through some difficult stuff and we don't know how to cope and so we push others away because we don't want to be vulnerable. Or you somehow lost the spark and stopped caring altogether. Whatever the case is, emotional unavailability is a recipe for disaster.
5. Not Listening to Your Partner
When your partner requests you to do something like throwing the trash or fixing the toilet or buying something at the store on your way home, and you said yes without really hearing what they said and so you ended up not doing any of those, it gets annoying over time if you keep doing it. Another example of not listening is when you argue and you always cut your partner off insisting that you are right and what they have to say doesn't matter. We are all guilty of not listening at times but if you constantly dismiss your partner, you are on the path to ruining your relationship. When your partner has to say something, listen. When you learn how to listen, communication between you are your partner becomes more fluid and you understand each other better. If you want to be in tune together, you need to listen to each other.
6. Constant Nagging
For the record, women aren't the only ones capable of nagging. Men can also be naggers especially men who want to be in control of everything. If you have the tendency to nag and find faults in your partner, stop it. There are other ways to make your partner do what you asked of them and nagging is not one of them. For one, positive reinforcement is effective. Even if it seemed easier to confront your partner about coming home late or always forgetting to put the toilet seat down, don't. Instead, use positive scripting and tell him how much you missed the times you share dinner together or how much you appreciate it whenever he remembers to put the toilet seat down (even if it only happened once in a blue moon). Positive reinforcement emphasizes love and not anger. This way you have a higher chance of making your partner change their bad habits slowly (by being more conscious of what they do and how it affects you) instead of them getting defensive and temperamental because of your nagging.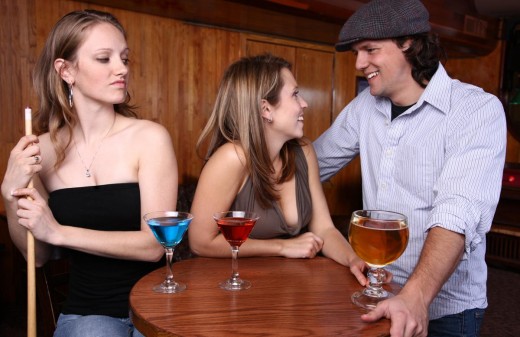 7. Acting Suspicious and Being Jealous
You probably have read a ton of articles about relationship red flags and signs that your partner may be cheating on you, it is no surprise, after all you are a suspicious person. Whenever you see your partner being busy with his/her phone, you immediately suspect that he/she is cheating. When you see a nice comment from a girl in his social media account, you immediately get jealous and asks your partner to un-friend that person or you block the girl if you have access to your partner's social media account. I've met this kind of people before and they are exhausting, really. They want to know their partner's passwords and if their partner refuses, they will start to think that they are hiding something. This attitude is not healthy. It shows how insecure you are in yourself and in your relationship.
It is okay to be jealous sometimes because you are afraid to lose the person and a bit of jealousy is acceptable. What is not normal is demanding to know everything like passwords, the names of people your partner interacts with, having someone spy on your partner and sneaking in your partner's belongings to find something and not allowing your partner to go to social gatherings without you with him. Being extremely possessive and unreasonably jealous and suspicious is incredibly annoying and before you know it, your relationship has ended. Give your partner space and respect his/her privacy. Trust in your partner. I get it, once you have been cheated on, it becomes difficult to trust fully again. But unless you really have strong evidence of him cheating on you, give yourself and your partner a break and breathe.
8. Bringing Up Past Mistakes Over and Over Again
Whenever an argument comes up, you like to keep enumerating the past mistakes your partner did to prove a point. Not only is it exhausting, it is also very unhealthy. If you resolve your issues, you need to realize that you start with a clean slate. You have to forgive and forget. It is not always easy to forget what they did in the past but if you keep bringing that up, you will never get anywhere. Even if your partner is trying hard to do better, if you keep bringing up the past mistakes on their face, they will eventually stop trying and just go back to their old ways since you do not see them trying anyway. Another reason why you should avoid bringing up past mistakes is it actually evokes resentment. People make mistakes and it is a fact we can never run from. If you keep reliving the past, you can't move on and you can't forgive. If you can't forgive then there is no point for you to keep being in that relationship. It will only be toxic for you and your partner and the relationship will go nowhere. Finally, bringing up the past deviate both of you from discussing what the real problem is. You may think it may be connected with what happened in the past, but more often than not, the issue you should be dealing with is something right in front of you, at present. If you fail to address the real issue right now, then you will not get the issue resolved. Don't dwell in the past. Instead, deal with what you have at present.
9. Foregoing Intimacy and Compliments
Sometimes, being together for so long becomes a little bit too boring for others that they lose their intimacy eventually. Once intimacy is gone, the couple will start to drift apart. No matter how busy your life gets, always find time to cuddle, be alone and share an intimate dinner or go out on a date. You should hold on to your intimate moments, that way you never lose the "spark".
Compliment each other and work on your romance regularly. It can be in a form of getting her flowers for no reason at all, or cooking something nice or his/her favorite meal, or giving your partner a massage. Even simple things like that can keep the intimacy going. Don't forget to say, "I love you", "thank you", and "I'm sorry". These words go a long way…
10. Forgetting to Take Care of Yourself
When you are in a long relationship, somehow your looks become insignificant to your partner, heck, you've seen each other's worst look in the morning when you wake up and smelled each other's fart. It is so easy to understand why a lot of people stop caring about their looks when they are happily in a relationship. However, this should not be a reason for you to stop taking care of yourself. You still need to go out there and work out so you keep fit. You shouldn't always lie on the couch eating junk foods while enjoying movie marathon nights. You shouldn't go out with your jogging pants and messy hair. DO not take yourself for granted just because you believe your partner will love you even if you gain weight or even if you stopped looking good. Keep yourself fit, dress appropriately whenever you go somewhere, eat and drink in moderation, treat yourself to a good pampering massage or hair treatment, wear something nice and style your hair. It may seem difficult when you have kids to take care of, but it is important to look and feel good about yourself. Try not to neglect yourself while taking care of your partner and kids. Not only does it keep the romantic flame going, but it also makes you feel good inside out.
Thank you for reading my blog. Please read, like, comment, and most of all follow Phicklephilly. I publish every day.
You can check out my books here: https://www.amazon.com/s?k=charles+wiedenmann&ref=nb_sb_noss_1