Philadelphia, PA – Early 1970s
When I was a kid, several people in the neighborhoods had what they called cookouts. You could smell it in the air when it was happening. I always loved that smell, but my family never did it, nor did we ever attend a cookout. Now it's called grilling or barbecuing.
I always knew when my friend Michael's family had a barbecue because it was all over his shirt after dinner.
I always loved that smell of a cookout, but would never even try anything like that until my early twenties. Just that aroma of burgers and chicken sizzling over the fire, slathered in barbecue sauce, smelled amazing. But It just wasn't something we did as a family back then.
We rarely ever went out to a restaurant as a family when we were kids. I remember my mother telling me that when we were really little if they took us to a restaurant and somebody started fussing, it was over. My parents were very proud and respectable people. They never wanted their kids to be the ones disrupting other people's dining experience, so we simply stayed home for dinner. Plus, I was a fussy eater, and going out to a restaurant even back then was expensive for a family of six, so it was too much.
But as we got a little older, sometimes on a Friday night my dad would come home from work and we'd all pile in the car and he'd take the family to a place called Burger Chef up on Cottman Avenue.
We loved it. The food was good and it was a fun night out as a family. My mom hated cooking so I'm sure it was nice for her to have a night off. Can you imagine hating to do something, and you had to do it every night for six people for over 25 years? She always told me she'd rather do all of the dishes than have to cook. But my mom was a good soldier and did what was needed for her husband and kids back then.
Years later, some of my fondest memories of my mom was when I was a teenager. She'd wash, and I'd dry the dishes for her. It was a time after dinner for us to bond, chat, and listen to the radio together. I'd tell her who all of the artists were and why they were so good. My mom always loved music, so we always had that in common. Sometimes we'd even sing along together.
Anyway, here's a link about this remarkable predecessor to Macdonald's.
https://en.wikipedia.org/wiki/Burger_Chef
I would get a kid's sized hamburger and we'd all share the french fries. We never had fries like that at home, so I loved them!
We'd all be on our best behavior for obvious reasons. We were all taught early on how important good manners were and how to behave in public. My sisters and I were so well-behaved in public that my mother once told me that people would come up to her and tell her how lovely her children were. What those strangers didn't know, was the unbridled wrath we would be shown if we ever acted rude or disrespectable in public. We were raised correctly. Sadly, much of that is lacking today. Good manners don't cost a thing and everyone should practice them every day. If you're raised properly as a child it will carry you forth through your whole life. But you'll always have to navigate your way through all of the animals on this planet. But I digress…
We were good kids on our best behavior happily munching our burgers and sipping our delicious milkshakes. You really can't find a good milkshake anymore in any fast food restaurant. You actually have to go to an old diner where they make it with real milk and ice cream. When you can find a good milkshake it's a thing of beauty.
We eventually switched from Burger King to MacDonald's but it was all the same to me. I was just happy to be out munching on delicious fast food!
Look how cheap everything was back then!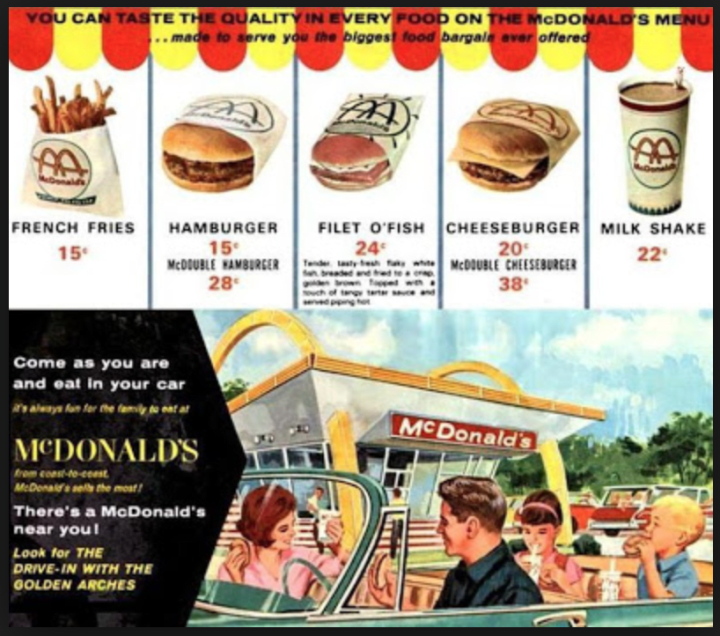 We were just chilling at the table and chatting with our folks, just being our little unit among the other diners. But my sisters and I had bigger hopes for the evening beyond delicious fire-grilled burgers and golden buttery fries. There was something else. Something unspoken between us kids. We quietly prayed that after dinner something else might possibly happen. And if it did… it would be a glorious event.
Because up the road was a magical place.
Even as my father pulled the vehicle out of the parking lot of the restaurant, we would all look out the windows knowing if we were headed home, or if we were headed in a different direction. We would know, and the anticipation would begin to build.
As long as dinner came off without a hitch, we'd be rewarded with a little trip to a second location. A place beyond a child's imagination. A place rivaled only by what we imagined that the warehouse behind Santa's workshop at the North Pole looked like.
We would make our pilgrimage to this oasis of sheer joy.
Yes… Kiddie City!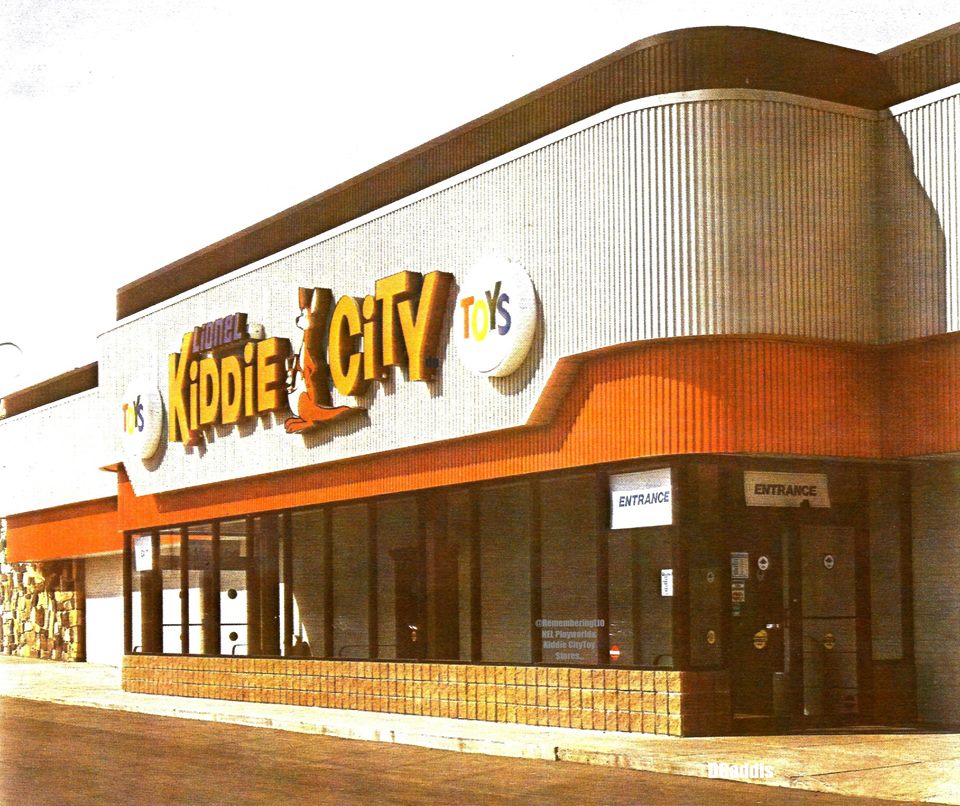 Here's a couple of actual shots of the place in the 70s.
There was a 5 & 10 in our neighborhood. There may have been little toy shops on Rising Sun Avenue near our house in Lawndale. There was even another toy store nearby, called Baby Town. But this place…. this was a gigantic store. A destination. A brilliant building filled with every toy a child could possibly ever want in life. I mean… everything!
Walking into that store and seeing aisle after aisle of every toy you could possibly ever imagine was an amazing occurrence. I think I would never have that level of excitement until Christmas morning. This place was so exciting to kids, but Christmas was pure euphoria.
We'd all wander around the store looking at all of the toys. Our parents were always close by and making mental notes for our Christmas lists. Unlike most families, my parents never got caught up in Black Friday or any of the hustle and bustle of the Christmas shopping crush that most people experience each holiday season. Unbeknownst to us, my folks shopped for toys for us All Year Round.
Do you know anyone who did that? I don't. They bought for us all year round. They would hide them all in the basement in the back of closets and under tarps in boxes under the pool table. Probably in their own bedroom closets or even at my father's office. No one was the wiser and my parents were like elves doing Santa's work on a monthly basis. Which not only was easier on their finances and budget but resulted in the collection of an absolute bounty of toys for us kids.
My father had kind of a crap childhood, and his father, although a great earner at an insurance company, showed little interest in his two sons. He'd rather be at the bar tossing back a few with his buddies.
He'd simply toss a few bucks to his wife and tell her to pick up some toy trains and some other stuff. My father in turn did not repeat his father's lack of performance. My dad went the other way. He loved Christmas and every aspect of the holiday. He went crazy at Christmas and I'll cover that in a future post. But let's just say, I'm surprised my father didn't have a direct line to the North Pole to the big man himself. (I'm kidding… My dad WAS Santa Claus!)
We'd look at all of the goodies and drool over all the stuff we wanted to get. And… if… IF… we were good, we might even walk away from the night with a little something. Maybe a little doll or a car, but better yet… possibly a book.
We didn't get many toys throughout the year. I don't know what other kids got, but in my neighborhood, I'd know if a kid got anything new. But at Christmas, that's when you got all of the things you wanted the entire year.
So, I've always associated fast food with good times with my family. It was a rare occurrence, but when it happened it was magic!
Thank you for reading my blog. Please read, like, comment, and most of all follow Phicklephilly. I publish every day.
You can check out my books here: https://www.amazon.com/s?k=charles+wiedenmann&ref=nb_sb_noss_1