Wildwood, New Jersey – 1971
This little story takes place a year after my father bought the house at the shore in Wildwood. It was a magical time. We were the only kids I knew that had a shore house and could disappear from the neighborhood in Philly for the entire summer. I remember when I would come home at the end of August my friend RJ didn't even recognize me at first. "All I saw was this kid with a brown face with white hair!" That's how tan we all were when we got home after spending July and August on the beach.
My family obviously wanted to take advantage of all of the wonderful activities the seashore had to offer. The boardwalk, with is wonderful amusement rides and games of chance, the beach, Winterwood, Cape May, mini-golf, and movies.
One day I was probably working on the architectural design of some elaborate sandcastle with my dad and sisters. This cool refurbished blue PT boat cruised by out beyond the waves. I asked my father about it and he told me it was an old warship converted into a sightseeing boat.
It looked fun, but there was an even bigger boat that did tours through the inland waterway and out into the ocean for the tourists. That was the Big Flamingo.  I always thought it was called the pink flamingo because of its obvious color, but that's the real name.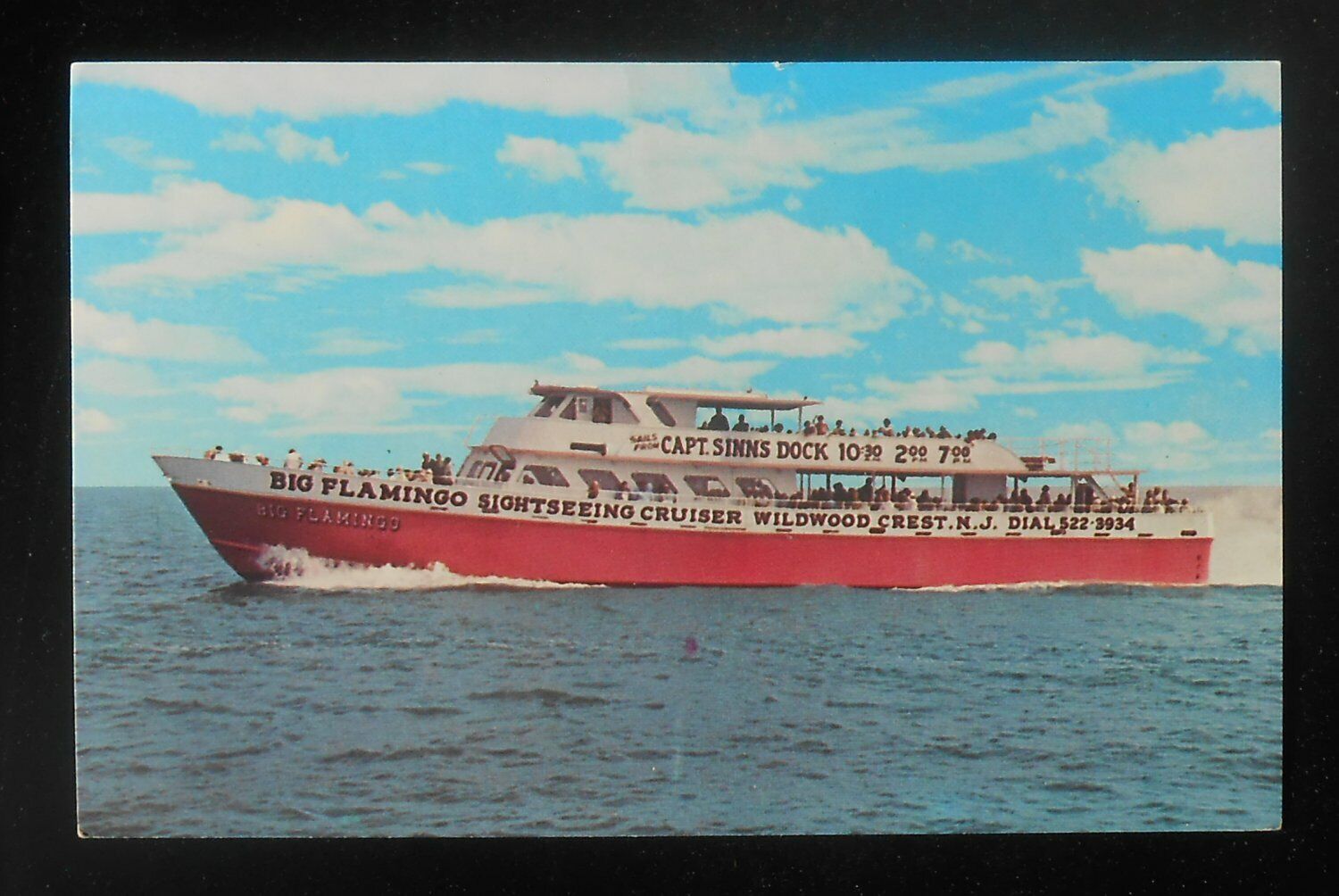 I wanted to take a ride on the pink one because it was bigger and looked cooler. I remember reading about it in a brochure we had lying around the house. The tri screw, twin-engine sounded like the more powerful ship. I wasn't a fan of heights or deep water so the bigger boat just seemed safer to me.
Capt. George Sinn's "Big Flamingo". The Wildwoods' largest sightseeing cruiser – the 85 foot triple Diesel Air Sea Rescue boat, the former P444, sails 10:30 A.M. – 2:00 P.M. – 7:00 P.M. daily from Sinn's Dock, Cardinal Road, and Park Boulevard, Wildwood Crest, New Jersey.
So dad took us out on the Big Flamingo one evening. My mom didn't go because she stayed home with baby Gabrielle. I also believe like me, my mom didn't like feeling dizzy or off balance. We both ate Dramamine for long car rides and always felt a little nauseous when it came to any kind of weird motion.
Illness caused by motion during travel. Travel by car, air, or boat all can cause motion sickness. Motion sickness usually goes away when the motion stops. Symptoms include fatigue, uneasiness, dizziness, and vomiting.
Focusing the eyes on objects straight ahead may help. Avoid overeating, alcohol, and smoking before travel. Oral or patch medications can prevent or treat symptoms.
I remember she once told me that she went out to a restaurant with my dad at a nice restaurant near a harbor. She said she could see the boats going up and down outside the window and she started feeling seasick. We were the same when it came to any unstable movement in our surroundings.
But Dramamine never came into play when thoughts of going out on a huge ship that toured the bay and then a little bit out into the ocean and back. Me, Janice, April and my dad all went on the cruise and it was amazing! It was the first time I'd ever been on a boat and it was super fun! Another great tradition was born for our summers in Wildwood!
Here's a cute little song to go with the above story.
Wildwood, New Jersey – 1972
Here we are a year later and one of the things we kids definitely wanted to do was get back on the Big Flamingo! Capt. Sinn's giant tour boat docked back in Otten's Harbor.
So, one fine evening we all headed over there to board the boat for another cool adventure.
Off we go on the boat and it cruises along in the bay through the inland waterway. It was a lovely evening as the sun set over the grassy sound. Good times!
As we rounded the southwestern point of the island, down around Diamond Beach beyond Wildwood Crest, we entered the Atlantic Ocean. This was the best part of the tour. As twilight approached, the ship headed northward, and if you looked off to your left you could see the whole boardwalk. It was a dazzling vision of lights, amusement rides, and music. Probably the best view of Wildwood at night from afar. A view you'd never get to see as a kid.
My favorite spot to stand on the deck was in the absolute front of the bow. It was the best place to be on the ship. You really experienced the power of the ship cutting through the ocean.
But what began to happen was completely unexpected. The ship began to encounter ground swells. A groundswell is a long-period group of waves created by a distant storm system over long distances, at least 2,000 miles away from the coast. The majority of groundswells are produced by mid-latitude depressions between 30 and 60 degrees, and travel from west to east, swinging towards the Equator.
No one told me this could happen, but there was no way anyone could have known what was happening. What this means is, instead of the big ship cruising along placidly in the sea, it begins to go up and down in a sickening repetitive movement. Not little rolling waves. I'm talking this huge ship goes up two stories and then comes back down, causing a jarring feeling in your stomach. This happens over, and over, and over again. This is how people become seasick. It's a normal occurrence, but being a kid I was absolutely terrified.
My dad told me to stay where I was and just ride it out. I think what made it so horrifying for me was, last year I had a great time. I felt safe and had a wonderful time. Now I was stuck on a boat in the ocean and it felt like it was out of control. It doesn't matter how big the boat is, it's simply no match for the power of the sea. If it wants to toss you around, it's going to. There's nothing you can do but ride it out.
Apparently, people were getting sick all over the boat. At least I wasn't alone. My dad and sister Janice were close by, but it was the unexpected, trapped feeling that gripped me. That was the worst part. It was a sudden horror that washed over me again and again.
The captain turned the ship around halfway through the tour and headed back to the bay. We had nearly made it back into the calm water of the bay when I began vomiting. I just chundered right over the side. The wind was blowing, and I remember my dad trying to catch the blowback of my technicolor yawn with his hands. He just didn't want my puke to splash back on the other guests. (Always the respectful gentleman)
I felt a bit better when we finally got back to the dock, but was badly shaken by this experience. I had always had anxiety since I was little and this sort of event really rattled my psyche. My sister Janice was fine and I think April was okay as well, but I felt a bit shattered after that event. My mind went from trusting a fun event that turned into a terrifying, embarrassing nightmare the second time around.
These are the type of wacky events you laugh off after they happen and you simply chalk them up to, "well, that was awful."
But the next morning I woke up with an anxiety attack. I didn't know what anxiety was back then. I was just overcome with sudden fear again. People who don't suffer from anxiety simply don't understand. They're all fine the next day. Me… basket case. That feeling of losing control or going crazy. Heart palpitations or chest pain. Feeling like you're going to pass out. Trouble breathing or choking sensations are all part of those types of attacks.
It actually traumatized me. I didn't want to get out of bed. I felt nauseous. I felt fear. I didn't want to go to the beach, or near any kind of water. It was an overwhelming post-traumatic terror I had never felt before. But of course, nobody else understands it because they aren't afflicted with that sort of chemical makeup in their brains. It really sucks.
But my mom was very understanding and just let me take it easy for a couple of days around the house and neighborhood. My mom and I shared some of the same fears and it runs in our side of the family. On the other hand, my father and sister Janice are more stable and they simply go forward. Little April was unaffected by it all because she's simply tough.
After a few days, my father wanted to take us over to a spot called Dad's Place Marina. It was a great spot to go with family & friends. Everybody knew about the place but I had never been there. I had heard it was a neat place to go fishing and especially crabbing. I had never gone crabbing but it sounded like a fun thing to do.
My dad had found a couple of old metal rusty crab traps in the storage room behind the house. He asked me if I wanted to go. He said it was just a dock on the bay, and I could walk back onto the shore any time I wanted. I liked the idea of the escape route and agreed to go with him and Janice.  So my mom took April and baby Gabby to the beach and we drove over to Dad's place in our VW minibus.
When we got out there, my dad bought a couple of new crab traps and some squid for bait and we were good to go. Crabbing is a very passive activity and it's probably what I needed to overcome my fear of the water and acclimate myself to being near it.
Dad's Place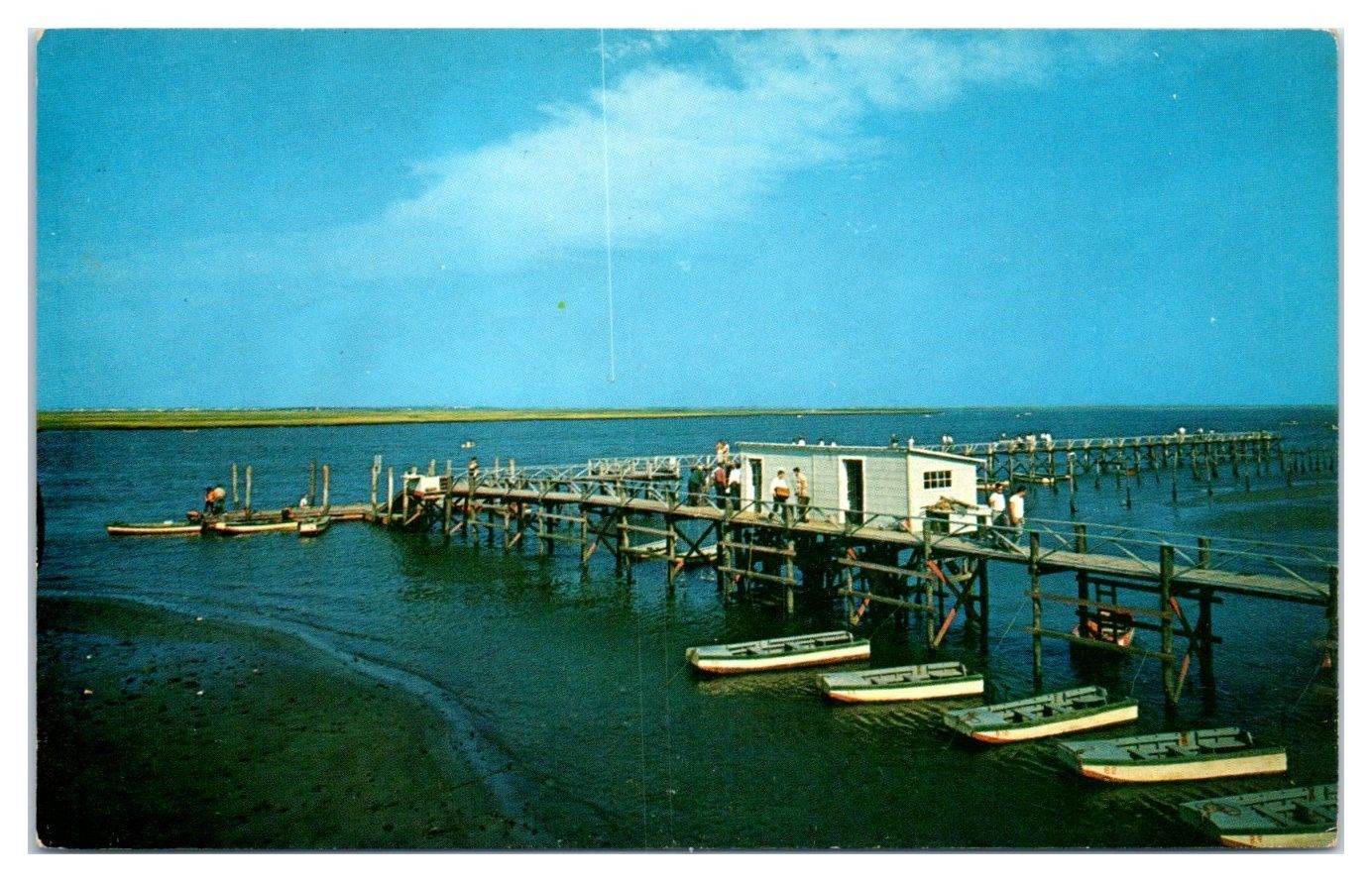 It turned out to be a fun day, and we caught lots of blue point crabs. (Those are the ones you want for eating, not those little spotted ones that grab your toe in the surf.) It was fun to drop the trap off the edge of the dock on its line and simply wait. After a while, you'd pull it up periodically to check your trap. Sometimes you'd have a crab or two. I even caught a tiny sea robin in mine! I was shocked you could catch a fish with a crab trap.
So, the trip to Dad's Place and the day of crabbing with my sister and father, sort of reset me. After that, I was fine and resumed trips to the beach and playing in the ocean.
But I never set foot on that goddamn Big Flamingo ever again!
And… here's a song that seems appropriate for what happened above.
Thank you for reading my blog. Please read, like, comment, and most of all follow Phicklephilly. I publish every day.
You can check out my books here: https://www.amazon.com/s?k=charles+wiedenmann&ref=nb_sb_noss_1
Listen to Phicklephilly LIVE on Spotify!