Sexting and exchanging nudes is fun, but it's not always enough to get you off when you and your partner can't be together IRL. More than sexy Snapchats — and even more than tried-and-true phone sex — FaceTime sex is the closest you can get to enjoying the real-time thrills of sex IRL, and it's not just for committed couples. FaceTime sex with a casual partner can always be an option if you want it to be. But, like with in-person sex, safe FaceTime sex should always be a priority — especially when you're doing it with someone you don't know too well.
In a long-distance relationship, you and your SO already have an established foundation of trust. Partners can nurture intimacy for months, or even years, before going long-distance. But that trust might not exist with someone you've only known for a few weeks, or with someone you've never actually met IRL at all. That's why it's important to take safety precautions during sex — no matter what form it takes — just like you would with IRL f*ck buddies, flings, and one-night stands.
Keep these pro-tips in mind if you're curious about how to have FaceTime sex safely.
Be Selective About What You Show
Approach FaceTime sex the way you'd approach sending nudes. For one, don't include your face in the frame. "Keep in mind that tattoos can also be big signifiers, so try to avoid having any of them in nude photos, too," Gigi Engle, certified sex coach, and SKYN Sex and Intimacy Expert, tells Elite Daily.
Along with your face and tattoos, you'll want to leave certain personal items or decorations out of the shot, too. "Whether FaceTiming or sending photos of any kind, be sure not to reveal identifying details in the background," Alison Falk, a cybersecurity professional, and president of Women of Sextech, tells Elite Daily. "It's extremely easy to determine the location of where people live and work when even the slightest details are exposed."
If your cyber-sexual relationship develops beyond a one-night stand, you may not have to worry about hiding your face or tattoos in the future, but that might take some time. "Trust needs to be built before you engage in higher-risk sexting," Dr. Chris Donaghue, a certified sex therapist and SKYN Sex and Intimacy Expert, tells Elite Daily.
Discuss Screenshots
While STDs, STIs, and pregnancy aren't concerns that come with digital sex, it does pose its own risks: screenshots, screen recordings, and your partner possibly posting these nudes without consent. "These are things that don't need to deter you, but you should discuss this possibility and talk about how violating it would be," Engle explains. "It is sexual assault, as far as I'm concerned. Be open and honest that this would be completely not OK with you, and make sure they feel exactly the same way about it."
No federal, anti-revenge porn law exists, says Falk. "So do everything possible to protect yourself legally."
Forgo Alcohol & Other Substances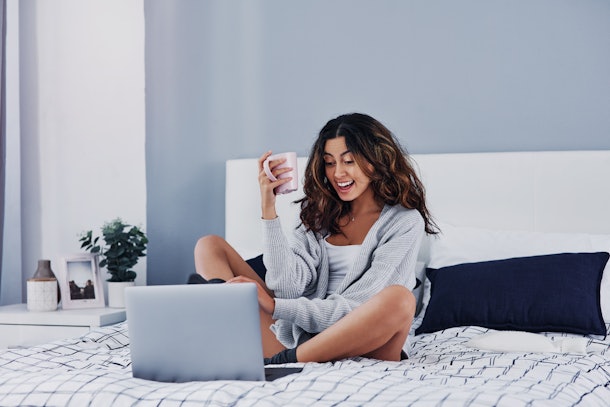 Make sure your mind is clear while engaging in FaceTime sex. If you enjoy indulging in some wine or other substances to take the edge off, consider abstaining prior to your cyber-sesh, says Engle, as they can impair your judgment and lead you to reveal more than you're actually comfortable with. Especially if it's your first time having FaceTime sex, leave the White Claws and weed behind.
Make Sure You're Comfortable
With both cybersex or sex IRL, trust is the name of the game. But discerning whether your dating app match is trustworthy can be tricky. "This isn't someone you know very well, so you can't make that kind of call," Engle says. "There is no special formula for accessing whether someone is a creep or not."
Likewise, while Donaghue acknowledges the benefits of online sexual expression, he urges against having FaceTime sex with people you're not super comfortable with. "Emotionally, you want to be able to let your guard down and really enjoy the eroticism and arousal."
Even though there's no real way to tell whether your digital f*ck buddy is someone you can trust, you can ask all the right questions to make that judgment to the best of your ability. Discuss what they've done with screenshots during other forms of cybersex, like sexting. "Ask them what they did with pics they have been sent in the past from others, and if they ever share them," Donaghue advises. "If they explain that they sext ethically and therefore delete after the sexting goal has been achieved — or the relationship ends — then that's a good starting point."
When you're embarking on your sensual FaceTime adventures, remember that the same way dental dams, condoms, birth control, and frank conversations can help put you at ease, so can taking proactive steps toward safe FaceTime sex.