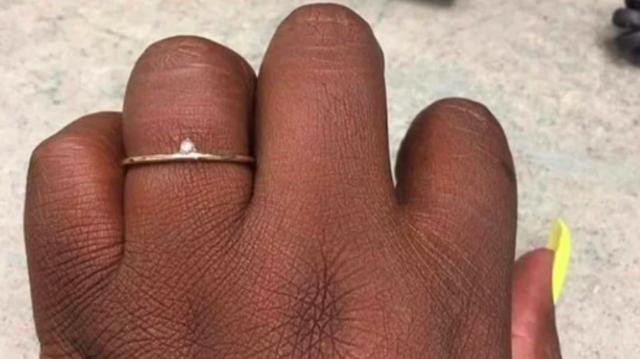 I'm not the first person to say weddings have gotten out of control in America, but man does it bear repeating. The over-the-top engagement and bachelorette parties, the mile-long registries packed with pricey items you just know the couple will never use, and the wedding receptions themselves, which can cost upward of $50K … It's MADNESS! Plus, before the wedding festivities even begin, the groom has to fork over some major bucks on the engagement ring — which he will definitely be silently judged for if it's tiny. Such is the predicament one poor soul is in, after he got hardcore ring-shamed on Reddit this week.
The Reddit post, which was shared on Monday, has elicited a LOT of opinions so far from people who could hardly believe their eyes.
In it, the poster shares an image supposedly from a woman who recently became engaged after eight years with her partner. On her hand sits a diamond engagement ring, accompanied by a simple gold band.
Sounds pretty standard, right?
But you see, here's the thing: The ring on her finger looks like less like a rock and more like … well, a pebble. Or glitter. Or, honestly, anything other than a diamond engagement ring. Because even to the untrained eye — and the least materialistic person out there — it's pretty clear: The ring is small. And that's precisely why the bride-to-be took to social media in the first place.
"This is the ring he said he saved up to buy me," the woman wrote. "Am I being shady or materialistic if I tell this mf ion want this little a– ring?"
Reddit was pretty much unanimous: The ring is bad. Like, REAL bad. And mostly because of what they think it says about her fiance's judgment.
"I'm not materialistic when it comes to things like this but if my man proposed with THAT I would be full on insulted," wrote one woman. "There are nicer, more substantial rings than that for $200. He went out of his way to find the cheapest possible option; which to me says that he's probably like that in every aspect of the relationship and will probably be like that in every aspect of their marriage. You can count on it."
Yikes.
Plenty of others took turns guessing just how inexpensive the ring was, too, and many believe it to be no more than $200 to $300.
To be fair, $200 to $300 isn't a drop in the bucket. But for an engagement ring? One you've been presumably saving up for for years?
To many, it says something about his saving skills …
"Not gonna lie," wrote one person. "I'd be more concerned about his 'saving up' to buy something that little. Simply because it shows that a wedding is probably not in the budget."
"I agree," another person chimed in. "While I have no idea what this costs, it doesn't look like a ring one would need to save up for. They have been talking about marriage for three years, but have they gone window shopping for engagement rings? Have they discussed style, size, and budget for the ring as well as a wedding?"
Plenty of Redditors said the woman should "gently" let her fiance know this isn't her style, and ask to return to the jeweler to choose one she likes.
"This will hopefully lead to a budget discussion and set priorities," one person explained.
"Exactly," added another. "My husband has bought some jewelry for me that wasn't my taste. I wanted to have an engagement ring I absolutely loved, so we picked it out together. We got engaged almost three years ago and I still stare at my ring every day because I absolutely adore it."
"I used to think this was unromantic af, and then my then-bf made me do it and LET ME TELL YOU it's amazing," another woman said.
In fact, a lot of women chimed in about their involvement during the ring-shopping process, claiming that picking it out themselves — or at least steering their boyfriends in the right direction — wound up being for the best.
Even a few dudes commented that they were grateful for the help.
"I went so far as to make my then-gf pick out an engagement ring," one man commented, "because I knew I wouldn't get the one she wanted and I knew she'd be the one wearing it forever."
Still, many warned that this might be a sign of things to come …
"Regardless of whether she likes the ring, if they've been talking about marriage for 3 years and this is what he was able to save for (possibly over the course of 3 years), unless her fiancé is living in poverty, it seems like this is a red flag regarding his ability to manage finances and save money, which is a major concern if you're going to spend a lifetime with someone," wrote one person.
At least a few people came to the guy's defense, though. Well, sorta.
"I kinda like her ring," wrote one person. "It's very modern and sleek looking. I'd wear that in a heartbeat."
"It's totally the kind of ring that I'd wear," added another.
But perhaps one person said it best when they dropped this little truth bomb: "When the ring is the issue, the ring is not the issue."
Hmmm … FAIR. Very fair.
The thing is, the ring IS small. But is that really a reason to shame the person you supposedly love on the internet? Here's hoping the woman works up the nerve to tell her fiance what she really wants in an engagement ring — and it leads to a bit more communication in the future.