Happy Thanksgiving!
Don't be fooled by the monsoon of incoming couples pictures — the holidays are a great time to celebrate your own darn self. Whether you just called it off with a long-term boo or you've been playing the field for a while, these Thanksgiving Instagram captions if you're single will make you feel saucier than the cranberries, guaranteed.
No matter your romantic status, social media an be a sweet way to connect with friends and family all over the globe. From sharing a candid snap of your dad dancing in the kitchen to posting a cute selfie of you and your baby sisters, Thanksgiving is a time to think about everything you're grateful for and share your feelings with the world around you. Maybe you pretend to be into the "big game" to feel closer to your cousin Brian, or perhaps you help your grandmother peel the carrots for the roast. You can even take some time to think about all the reasons you're a stellar superstar, and how lucky your friends and family are to have you in their lives. Just saying.
Whatever the case, if you're a party of one this Turkey Day, here are 18 Instagram captions to use on Thanksgiving.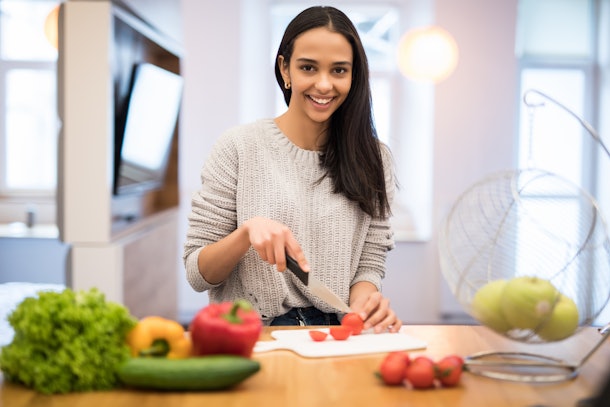 Thankful for myself.
Partner? Do you mean, parsnips?
I'm eating for two. Not pregnant or taken — just eating enough food for two people.
My romantic status is: Dodging intrusive questions from my aunt.
Single like a Pringle, and ready to eat.
Sharing this Thanksgiving with Ina Garten's pumpkin pie because I have high standards for desserts and romantic partners.
I'm thankful for my sweatpants and my sweatpants only.
The only thing I'm putting in my mouth this Thanksgiving is garlic mashed potatoes, and honestly, I'm better for it.
*Holding food* My partner!
Grateful for you. *Holding pie*
Pro tip: When your family asks you why they're single, ask them if they know someone that deserves to be with you.
In the market for a new crush, so HMU if you can make yams.
Feeling single and (cranberry) saucy — won't delete later.
Being single means you get two slices of pie, right?
I'm not single, I'm "self-partnered" and thankful for it.
Amazing lighting at the dinner table, you're welcome.
I love not dating anyone because I never have to pretend I care about football.
Single and not stressing about dealing with someone else's family. Still stressing about dealing with my own, thought.
Thank you for reading my blog. Please read, like, comment, and most of all follow Phicklephilly. I publish every day.
Listen to Phicklephilly LIVE on Spotify!
Instagram: @phicklephilly       Facebook: phicklephilly     Twitter: @phicklephilly