Phicklephilly: Still, you were a 15-year-old kid and he was an adult man with a lot of experience, and power, and drugs. You don't see any problem with that now? 
I was an innocent girl, but the way it happened was so beautiful. I remember him looking like God and having me over a table. Who wouldn't want to lose their virginity to David Bowie?
Phicklephilly: But did it ever feel like there was something unusual about it?
No. You need to understand that my life has never been normal. I have always been special. I always felt like the universe was taking care of me.
Phicklephilly: Did your mother have any idea what was going on?
I think she knew. But what could she say? My older sister was fucking lowriders and surfers; my dad was deceased; I was with rock stars. Besides, I had been the last virgin in my high school. In some ways, I was not different than one of the Kardashians. At that point, you could say, I was viewed as a groupie. People on the scene knew that I had been with Bowie and that brought out the paparazzi. But in my head I was still a virgin. As far as school went: forget it. I couldn't concentrate on classes. I had been pulled into this rock 'n' roll life!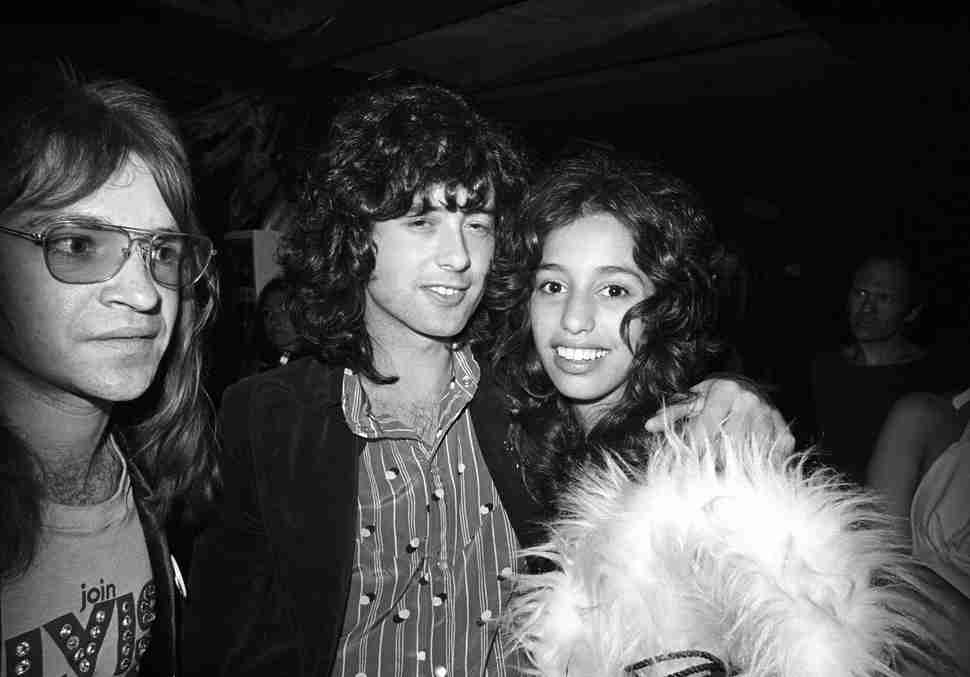 Not long after my night with Bowie, I got a call from some guy saying he was Jimmy Page. I knew it was a prank phone call. Led Zeppelin was the biggest rock band in the world. Why would Jimmy be calling me at home? But then, a couple of weeks later, Sable and I were at Iggy's place where we found out that Led Zeppelin was staying at the Hyatt House. They had the entire ninth floor. On the way over, Sable said to me, "You keep your hands off Jimmy. If you touch him, I will shoot you. He's mine." I told her that it was okay. I wanted nothing to do with him.
So we got to the Hyatt. Everybody was hanging out at the pool, throwing each other in, and Jimmy walked up to me. He said, "Are you Lori? I'm Jimmy. I told you I would be with you." It was him on the phone! I couldn't believe it. At that point, though, especially after the Bowie incident, I was truly afraid that Sable would beat me up, kill me, crucify me, 86 me out of Hollywood. She was the queen of the groupies. You did not fuck with Sable Starr.
That night we all wound up at the Rainbow, where I got approached by Led Zeppelin's manager Peter Grant. He was like 700 pounds and scary as hell. He said, "You're coming with me, young lady." I wound up in a limo and didn't know where I was going. But it was to the Hyatt. I felt like I was being kidnapped. I got taken into a room and there was Jimmy Page. He wore a wide-brimmed hat and held a cane. It was perfect. He mesmerized me. I fell in love instantly.
Zeppelin was starting its tour for Houses of the Holy and Jimmy stationed himself in LA. The band had a private jet, called the Starship, and he flew back and forth from the gigs. But I was underage and couldn't travel with him. So I would stay in the room and wait for Jimmy. At that point, I was 15 and totally in love with this man. I put him on a pedestal. It became so serious that Jimmy asked my mom for permission to be with me.
Phicklephilly: Wait — he asked your mom? Did he ever seem at all nervous about having sex with a minor?
Looking back, he had to be afraid of getting sued for being with such a young girl, so maybe he thought it would be better if he cleared it with my mother and told her he was in love with me. And I do think he was in love with me. He bought me beautiful maxi dresses to wear and wouldn't let me do drugs or anything.
Phicklephilly: What did your mother make of him?
She liked him. She used to be an agent and was savvy to show business. She knew that I was dating the biggest rock star in the world. She used to say, "My daughter is like Priscilla [Presley]." I was Jimmy's little angel.
We really didn't do much besides go to parties in LA; other than that, Jimmy never took me anywhere amazing. We just sequestered ourselves in the hotel room. Then there was an incident at the Drake Hotel in Manhattan. The band was staying there while doing some shows at Madison Square Garden. They had $200,000 stolen from the Drake's safety deposit box. The FBI thought it could have been an inside job. Ultimately, when the band came back to LA, Peter Grant told me that I had to get out of the hotel or else Jimmy might go to fucking jail. The FBI was all over them.
But that blew over and Jimmy and I stayed together. When he was in England, he would call me every day. I hung out with Sable and Queenie and went to the clubs and waited for him. I stayed loyal. My whole life was about waiting for Jimmy. I tried going to high school, but I couldn't concentrate. And after Jimmy Page and David Bowie, what was I going to do with a North Hollywood boy? I didn't go to high school prom because I was too busy living the Hollywood prom.
When he came back for a party to celebrate the launching of the band's record label, Swan Song, I made the biggest mistake. I knew I would be staying with Jimmy and told my friend Bebe Buell [then a groupie who later dated Steven Tyler and is the mother of Liv Tyler] that she could have the room next door. I didn't know she would steal my man. I had a key to Jimmy's suite, walked in, and saw them in bed together. I looked at him and said, "What did you do to me?" I never trusted him again. He was like a god to me and instantly destroyed this whole image I had of him.
I remember going to a party they had at Bel-Air Hotel that night. I probably took a Quaalude or something and wound up with a bloody nose. I wore a white dress and got blood all over it. That was an awful night. I don't even like thinking about it. My relationship with Jimmy ended and my heart was shattered. It was hard for me to trust again. He will always be one of the great loves of my life.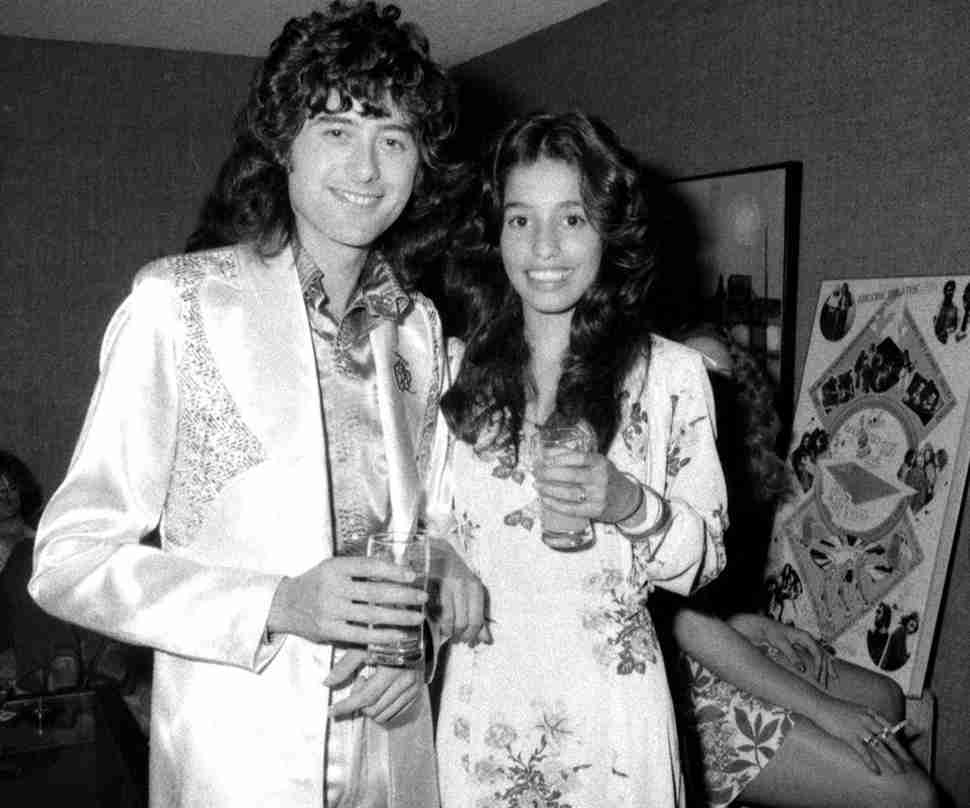 Phicklephilly: Do you think in retrospect that he might have exploited you?
No. I feel blessed. I feel like I was protected rather than exploited. I feel like I was very present.
After Jimmy, I grew up and got over it. I was still modeling. My life was still rock 'n' roll and rock stars. Of course there were other guys — and amazing situations. I remember being 17 and hanging out at the Record Plant in LA. I was friends with the owner and everybody recorded there. I saw three of the Beatles with Mick Jagger and Stevie Wonder having this great jam session. But then Mick started fighting with McCartney or Lennon over who would sing on a particular song. Mick got pissed off. He took me to one of the bondage-themed bedrooms that the studio had. Mick said, "Let's go fuck and get high." We did blow all night and talked and hung out until the morning. We tried to have sex all night, but, at a certain point, he couldn't get hard anymore. We were both very high. Another time, Mick [had me] on a bathroom floor while Bianca was getting ready for surgery. The sex was very consensual.
Phicklephilly: Still, a lot of people would have a hard time with an underage girl having sex with rock stars.
But you need to understand that I didn't think of myself as underage. I was a model. I was in love. That time of my life was so much fun. It was a period in which everything seemed possible. There was no AIDS and the potential consequences seemed to be light. Nobody was afraid of winding up on YouTube or TMZ. Now people are terrified. You can't even walk out your door without being photographed. It has become a different world.
But, I should add, things haven't really changed. Look at the Kylie and Kendall Jenners, the Gigi Hadids. They are the modern-day versions of teenage groupies. The only difference is that the Internet blows them up in a way that allows them to make a fortune. And then there's Lindsay Lohan, Paris Hilton, and all those kids who were fucking partying at 15. It is just a different era. It has evolved into something else.
For me, now, I'm in the fashion business and look back very fondly on those years. I was really special. I knew it the night after I lost my virginity to David Bowie, when I went to see his concert at Long Beach Arena. It was still the Spiders from Mars tour, and, literally, the night that he became a star. But he had the spotlight shined on Lee Childers [Bowie's publicist], Sable, and I, sitting in the audience. That's when he thanked me for being there. Who cares what people said about me? I feel like I was very present. I saw the greatest music ever. I got to hang out with some of the most amazing, most beautiful, most charismatic men in the world. I went to concerts in limos with police escorts. Am I going to regret this? No.
Thank you for reading my blog. Please read, like, comment, and most of all follow Phicklephilly. I publish every day.
Instagram: @phicklephilly Facebook: phicklephilly